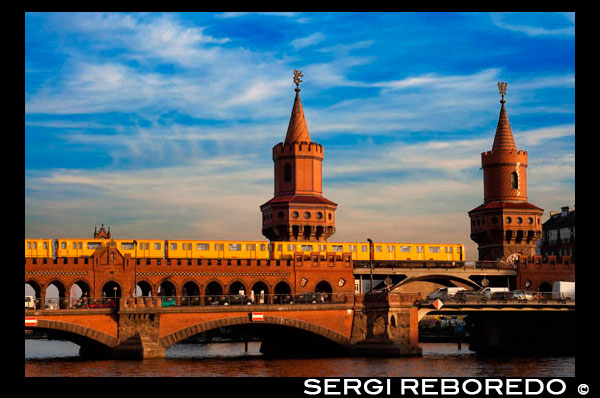 Click on the picture to see more photos.
Text and photos: Sergi Reboredo
THIS IS BERLIN
The city comprise twelve wards managed independently each having its own character. It has a population of just over three million inhabitants, of which 15% are foreigners, and one third of those of Turkish origin.
Of all the German cities is the green, which is referring to the more urban green areas have , among which especially Tiergarten and also other botanical garden. In total there are more than 16,000 hectares of forest within the city .
In the cultural field of the last century has always been a leading city , not in vain , and in 1988 was the "official Cultural City of Europe" and most recently, in 2006, was chosen as a UNESCO Creative City . The amount of museums that live in the city is amazing and documented thousands of years of history , but also contemporary and avant-garde movements . Only the banks of the Spree river there are 175 museums, to which must be added important institutions such as the Jewish Museum . It is said that Berlin is a huge haven for artists and , of course, for musicians, among them the Berlin Philharmonic , with a well -earned reputation refuted worldwide .
For shopping lovers is a city without end. Kurfürstendamm , Friedrichstrasse and Potsdamer Platz are the highlights , but the designer shops , the flea markets and antique sales are spread throughout the city.
It is now a city still under construction, where cranes dominate the landscape , a sign that the city is in continuous progress and does not stop .
GETTING THERE AND AROUND
Plane
Berlin has two airports located in prime Tegel and Schonefeld, a few kilometers from the city center . Until October 31, 2008 operated a called third airport Tempelhof ( THF ) located in the heart of the city. Due to its situation, which caused tremendous problems of environmental and acoustic pollution, and the fact the failure to increase the size of their tracks, in which it was impossible to land modern aircraft the Airbus A340 or Boeing 747 type, it decided to close definitely that airport . The protests of citizens and litigation airlines operating in this airport widened its closure , scheduled for 2004 already . Currently , facilities form the largest public park in Berlin, and airport buildings have been transformed to host fairs and events like the Berlin Music Festival , the Poplomm , or Bread & Butter , previously held in Barcelona.
From Spain there are direct flights from Lanzarote, Malaga , Alicante , Barcelona , Fuerteventura , Ibiza , Las Palmas , Madrid , Mahon , Palma de Mallorca, Tenerife and Jerez de la Frontera with Iberia
www.iberia.com Telf 902400433, Ryanair www.ryanair.com +49 900 116 0500, TUIfly www.tuifly.com +49 1805 757510, Condor Flugdienst GMBH www.condor.com +49 1805767757, Easyjet Airline www.easyjet.com +49 1805 029292, Germania Fluggesellschaft mbH www.flygermania.de +49 1805 737 100 y Hamburg Internacional www.hamburg-inernational.de +49 30 6349 7641. Lufthansa, despite being German flag company , has no direct flight from Berlin to any Spanish city, so that if we decided to use this company make a stopover in Munich , Dusseldorf , Frankfurt or any other major German city. Except for the Palma de Mallorca airport , which operates both Tegel and Schonefeld numerous hours a day, and even forms one of the most important hub of Air Berlin, the other Spanish airports practically only lands on one of the two airports depending on the airline we use. If you flew with one of the many low cost airlines operating from Spain we have to look good in added charges before taking flight or can expect to pay almost double what it would cost us a ticket to a more reputable company . These fees and surcharges abusive find the various taxes, ticket issuance , fee increases in fuel prices , check luggage, not print your boarding pass from home, check the line up of the first on the plane, pay by credit card, etc. .
In all companies, to be flights of short duration , have eliminated the drinks served for free in economy class and offers a catering fee , except , of course, of those who bought a ticket in upper class continue to enjoy these services without charge. Another value to consider companies would use the same air group to earn miles and get free flights or other privileges. In the two operating airports find cheap car rental Avis , Budget, Europcar, Hertz, National Car Rental / Alamo and Sixt companies.
Currently, the airport Berlin- Tegel ( TXL )
www.berlin-airport.de Telf. 0180 5 00 01 86 is the main airport. Is located eight kilometers from the city , in Tegel, a district of Reinickendorf and it takes to get between 20 and 40 minutes depending on traffic . It has a main terminal hexagon shape called Terminal A in which most companies plus two annexes that make up the Terminal D which extends southward and Terminal C where some low cost airlines such as Air Berlin operate operate located eastwards. Adjacent to Terminal A are the counters 20 to 39 belonging to Terminal B. The upper floor of Terminal A are several offices of companies specializing in last minute tickets to countless destinations , which can be interesting visiting. It also has a pharmacy, although the prices of any item can be doubled with respect to what we will pay in any other of the city center . To reach the center or we can do it by taxi, whose career will cost us about 20 euros, or in any of the four bus routes that connect the city . They have a normal rate of transport in the AB integrated areas, with a cost of 2.10 euros allows you to move for two hours on any bus , U -Bahn underground or S - Bah . With JetExpressBus TXL we will be connected with the area of Unter den Linden and Alexanderplatz , the X9 JetExpressBus reaches Kurfürstenstrasse Zoo and the Airport Bus 109 concecta with Charlottenburg , Adenauer, Uhlandstrasse and goes to the zoo . The 128 bus will leave us in Schumacher Platz, Strasse Dubliner and U- Bahn station of Osloer Strasse . These buses run every 10 or 20 minutes, depending on whether or not a public holiday and the time of day in which we live. First departure is at 4:52 on weekdays and Saturdays and holidays 5:12 and the last at 23:07 .
Schönefeld Airport
(SXF) www.berlin-airport.de Telf. 0180 5 00 01 86 It's located in the town of Schönefeld about 20 miles southeast of Berlin takes to get at least thirty minutes. Currently undergoing expansion to it becoming in 2011 the Berlin- Brandenburg and become the most important city , displacing much of the traffic Tegel , you might even get to close and it absorbs all traffic air Berlin . Works are scheduled to be completed in late October 2011 and could place the airport as the most important third behind Frankfurt and Munich. It was the main airport of the GDR and currently operate in it mainly low cost lines as EasyJet and Germanwings, but so do many other companies as well as some charter flights . The faster you get , though not the most economical means, is the taxi cost around 25 euros to the city center . There are several ways to reach the airport by public transport. The S9 and S45 S -Bahn line to come here in just over forty minutes. Up here also reach regional lines RE7 , RB24 and RE5 train. The RE7 and RB14 AirportExpressTrain takes less than half an hour to get to Heathrow . We also have numerous bus lines among which are the N46 , N60 and 171 stop directly opposite the airport and go to the U-Bahn station Rudow , and finally , lines 160 , 163, 602, 735, 736 and N60 going up to the S -Bahnhof Flughafen Schoenefeld.
Train
Berlin has a large rail network and the quality of their trains is superb. From Spain we can go via Paris or via Zurich. The InterCity Express trains , usually abbreviated as ICE , which are white , are faster and more comfortable resembling the Spanish high speed trains . These trains connect major German cities as well as Germany, Switzerland , France, Belgium , the Netherlands and Denmark. IR trains connect major cities in different regions. The RE are Regional Express, which are like trains with a number of not acceptable excessive stops and , finally, the RB are regional stop at all stations between source and destination. They are the cheapest with the RE , but also the slowest. The indicative prices for travel in economy class is 0.1 euro per kilometer , less any discount to which we are entitled , such as students, over 65, youth card , etc. . There is also the possibility of acquiring a Wochenende Ticket ( ticket good weekend ) . This is a bonus for five people costs 37 euros and allowing travel on Saturday or Sunday until 3 am the following day using any commuter train RB , RE and IRE , even using some of the lines that reach neighboring Poland . The Hauptbahnhof - Lehrter Bahnhof, opened in 2006 , is currently one of the most important in the city . It is located in the center near the Chancellery Reichstag and the Brandenburg Gate . It has five floors, three plants designed to shops and restaurants and a top and bottom housing rail platforms. Although we do not have to take any train worth a visit . Its construction meets the highest ecological standards with photovoltaic panels on the roof provide 50 % of energy consumption , in addition to the skillful handling of natural light which is used to illuminate much of its facilities. From this station depart most international long-distance trains as well as the vast majority of regional passing through Berlin. Some trains to the east or south of the country also depart from the Ostbahnhof , in the same way that those who leave do so eastward from Bahnhof Berlin Lichtenberg . Remember that if you use the rail network, with the same ticket you can access the S -Bahn long as we do upon arrival.
Metro: U-Bahn y S-Bahn
Berlin has rail urban transport systems , the U- Bahn and S -Bahn that although in theory operate separately, in practice turn out to be quite integrated. The U- Bahn is the underground. It was inaugurated in 1902 and has 146 miles of track spread across nine lines and 173 stations . Conwoys usually have six cars and the influx of passage varies from two to seven minutes depending on the time of day and day of week. On a weekday can get to carry 1.3 million passengers. During the nights of Friday and Saturday there is a special service and trains arrive every 15 minutes, except in the U4 and U55 lines that do not work .
The S -Bahn becomes a sort of commuter rail , but actually looking more Subway continues not to train. It works mainly by the surface unlike the U- Bahn , and stops are more separated . In addition, the influx of traffic is usually higher than the metro . Tickets together to serve the U- Bahn and S -Bahn , so that if you buy a single ticket for two zones AB , with a cost of 2.1 euros for two hours may use any means of transportation , including buses and trams. Tickets are available in the lobbies of some stations and platforms and then you must remember to validate them on machines suitable for this purpose. There are no barriers to detain people without tickets circulating , although virtually everyone travels legally, plus some civilian control inspectors so be it. Children under six years old travel for free and up to 14 at a reduced rate of 1 euro. There is a reduced ability to travel up to three stops costing 1.30 euros fee. Vending machines we can choose the Castilian language and pay with Mastercard or cash. Not accept Visa or American Express. The fare to travel for a day on any transport costs zones AB 6.10 and 26.20 euros seven days . There is a four ticket travel costs 8 euros. Bicycles do not travel for free, so if you travel with a single ticket for 2.10 euros we also buy a special bike ticket costs 1.50 euros for a single trip, or 4.40 euros for a whole day. It also offers the opportunity for visitors to purchase three types of cards in which public transport is combined with discounts at some museums that sometimes reach up to 50 %. There are three different types , the CityTourCard the CityTourCard Museum Island and Berlin Welcome Card . All of them can be purchased at ticket vending or buy from interenet on the same page www.bvg.de managed the company 's U- Bahn machines. At present almost all cars that run through the underground are new, although the major unresolved are the disabled access and baby buggies because some stations still do not have elevators. One tip at peak times is getting on the end that convoys are usually less crowded than central.
Tram.
It is one of the oldest, as its history dates back to 1865 when the first tramway pulled by horses is created. It is managed by the same company that does the U-Bahn and is one of the longest in the world with 22 lines and 382 stations. They work mostly on the east side and do not suffer the usual traffic jams, so often extemadamente point. The fare system is integrated in the same U-Bahn and S-Bahn explained above.
Taxi.
Taxis in the city are cream colored and are indicated in the upper left of the word taxi yellow letters on black background. Majority are familiar Mercedes, and they usually have a basic level of English to interact with visitors . Typically addressing vehicles on the street, although there are some fixed stops at train stations , bus, airport and major centers comenciales KaDeWe . In these there is a taxi phone to ask for a vehicle , should be empty. They are almost everywhere and it is always easy to find one available , are not cheap, but it is the fastest way to get around the city . Have meters and the initial fee is 3 euros , to which was added 1.58 for each additional kilometer. There is also a special rate called Kurzstrecke , why if we boarded a taxi on the street and less than two kilometers circulate only we pay 3.5 euros. The night and weekend rates are higher , as there is an extra charge for luggage. Not all taxi drivers know the city inside out , so it is very convenient to carry a map and tell you exactly where we want to go . In the suburbs, such as in Oberbaumbrucke , at rush hour is not recommended to use the taxi as the traffic is chaotic , as happens on rainy days in which, besides moving very slowly , it is mission impossible to find a taxi free. Taxi-Ruf Würfelfunk www.wuerfelfunk.de Tel. 210101 Taxi-Ruf GMBH City Funk www.cityfunk.de Tel. 210202.
Velo-Taxi.
It is a tourist rather than a mode of transportation attraction and were often seen circulating around Brandenburger Tor, like other spots frequented by tourists. There are about 80 rickshaw scattered throughout the city. Are manufactured in Germany by the company Veloform recyclable materials and are an important source of income for many students. It is the same model that works in other cities such as Hamburg, London or Tokyo. All rates are around 2.5 euros the first mile, plus 1 euro for each extra kilometer, so it has to negotiate the price with the driver depending on the distance. There are special veils, for example, a white wedding used.
City ??buses
It is a comfortable way to travel , especially to join tours of the city where the subway lines run vertically and we would like to do it horizontally. Only stop at marked stops forever and when we advised that we stop pressing the stop button , or have a passenger waiting to board . They work 24 hours a day, if we consider the 70 night lines and is easy to navigate search marquees stops on the route information . It goes through the front doors and down the center or rear . The ticket can be paid in cash or by card do U- Bahn or S -Bahn with which we can change line bus , metro bus or vice versa for a period of two hours without paying more. If you have purchased the ticket before we show it to the driver at the time of entry . Routes 100, 200 , M19 and M29 are especially useful for visitors. They are mostly double-decker buses that travel the most emblematic places of the city . Line 100 , for example, communicates Bahnhof Zoo 10 minutes West neighborhood, Unter den Linden and Alexanderplatz. The flag of the BVG in Hardenbergerplatz we may request a detailed transport if we are lucky enough to find it in any of the U- Bahn stations where sometimes split up .
We can pay the daily rate of 6.10 and use them as if they were tour buses with the advantage of also using the U- Bahn and S -Bahn .
Long-distance buses
The bus station Zentraler Omnibusbahnhof www.berlinlinienbus.de located near the Radio Tower ( Kunkturm ) between Messedamm Masurenalle and is the largest in the city. From their website you can find times to different destinations and buy tickets with Visa, MasterCard and PayPal. Among the international destinations Holland, Belgium , Czech Republic , Hungary , Poland, France and the UK among others, as well as countless German cities encuetran . Since the roads are first order tri-fold travel distances almost the same time as the train and also more economically . The only downside is that the space is not as convenient, but are provided with shower , television, and in some cases even provide refreshments to make the trip more enjoyable.
Tourist buses
There are several companies that are dedicated to transport tourists a landmark elsewhere. CitySafari www.citysafari-berlin.com, Berlín City Tour www.berlin-city-tour.de offer, for example, a package for 25 euros in which besides being able to be up and down the bus at key places in the city we combine it with a boat ride of an hour and a soft drink included. Almost all of these buses leave every 15 minutes from 10:00 to 18:00 and offers 18 fixed stops in which to alight.
Balloon, Airplane and Helicopter

To see the city as the crow flies nothing like flying over the area of the checkpoint Charlie in a hot air balloon. The company Air Service Berlin www.air-service-berlin.de offers the possibility to ascend 150 meters in Berlin sky for 15 minutes and costs 19 euros . ( 13 euros for students and seniors over 65, free for children under 2 years and 3 euros for children under 6 years of age). The balloon is attached to the mainland by mechanical tension so that the view is always the same. Before planning the flight is desirable to ensure the day before that the weather conditions are going to be appropriate since many days when the wind is too strong departures are canceled.
This same company offers flights in a Cessna 206 seaplane to 4 passengers for 45 minutes at 189 euros and helicopter flights 60 minutes and costs 219 euros.
Boat
Maybe the city of Berlin is not as famous as Venice or Bruges to enjoy boating, but is totally rewarding to spend the afternoon in one of these tours. On the one hand, there are companies that offer combinations of tourist buses are usually one hour , and on the other hand, only companies specialized in boat trips that offer better services and also time is often extended to two or three hours . Stern und Kreis www.sternundkreis.de offers several routes ranging between 9 and 17.50 euros , in addition to restaurant service on board with dishes at competitive prices. Almost all companies have their own docks although the routes are generally very similar. Museum Island area is usually the busiest fluvially talking . Other companies that offer this service are Reederei Bruno Winkler, Triabler and Reederei Riedel . For sea lovers also avoids the possibility of reaching Poland by ship, although the crossing takes an entire day.
Car hire
To rent any vehicle in Germany need only be Spanish Driving License Spanish , although it is worth Glad we previously provided Carné International Circulation . It is a pure bureaucratic process that takes place in any Traffic Department with a passport-size photograph and cost about 9 euros . Gasoline is usually 25% more expensive than in our country , and the roads are generally in better condition. In most sections of motorway there is no speed limit, but when it is imposed, the Germans do not tend to pass. Berlin is not a cheap city to rent a car, but quite the opposite . Despite the many deals that can be seen in many places , it is more than likely rent for a basic car type A not less than 100 euros with third party insurance , unless you find some bidding. Along with this disadvantage may roll adding other : as the price of gasoline has been increasing dramatically in recent years , traffic that is chaotic at certain times and the fact that it is difficult to park in the street and car parks are too expensive. All this makes it inadvisable to use this means of transport . If you 're still interested , these are the main companies: Avis 230 93 70 www.avis.es Europcar 01805 221 122 www.europcar.es Hertz 261 10 53 www.hertz.es y Sixt +34 91 1518438 www.sixt.es
There is also the possibility to rent a vintage Trabant . This vehicle , popularly known as Trabant and manufactured by VEB Sachsenring Zwickau in Saxony Automobilweke was the most common in the German Democratic Republic until 1991, when it was discontinued. It is a low cost car , very compact, lightweight and durable. Berlin and Bike tours www.berlinandbike.de akes two hours in these vehicles cost varies between 79 ( for 1 or 2 passengers) and 89 euros (3 and 4 passengers ) per person . TrabiSafari www.trabi-safari.de including the convertible version , and three 2-hour tours at the same price and Bike Berlin.
Bicycle
More and more areas reserved in Berlin asphalt bicycle , although most bike rides usually performed by parkland as the Tiergarten. The people of Berlin mostly use bicycles as a regular means of transportation. So, first thing in the morning , you may see many parents taking their children to school by bike , and then continue to work on their own . Most streets have a special bike lanes and traffic lights. Also, for longer trips may be carried on the U- Bahn or S -Bahn to pay your respective ticket. Companies engaged in the rental of bicycles are scattered throughout the city and it is not difficult to find . Rates start from 10 euros per day. Fat Tire www.fahrradverleihberlin.com also rent bikes offers other payment services like Internet , laundry, and luggage bags among others. More companies are Yaam Bike www.yaambike.de, Berlin and Bike www.berlinandbike.de. Some companies are not just limited to car and bike tours offered by the city to descurbrirla a pedal stroke . One problem that usually happens when you rent the bike is often the passport as a deposit is required , something that we must refuse so blunt.
Segway
Each time the tours are conducted in major Segway . These platforms with two wheels are ideal for visiting all corners of the city. Incline the body forward , backward, left or right, the Segway immediately slides in the exact direction we want and take the right speed you want. To get upright stop gently. There are several companies that are devoted to tours including City Segway Tours www.citysegwaytours.com offers a tour Spanish four hours through the most emblematic places in the city for 67 euros . In some cases a driver's license of any kind, including moped and a deposit of 400 euros to be made ??with Credit Card is required. Berlin and Bike Bicycle also Segway tours also takes from 49 euros Berlin and Bike www.berlinandbike.de
A pie
Without hesitating a moment , I can tell you that a walking trip with the metro is the best combination for the city and its inhabitants, although sometimes it can be exhausting . In Berlin , the vast majority of people fail the street when the light is red and always do for zebra crossings and places authorized for that purpose. A red doll with open arms and a green one in a position to indicate when we can walk across the street. The numbered streets not ours uses the even numbers on one side and the same logic and the other odd numbers are often correlated . In each corner is indicated by a vertical sign the name of the street or the square.
As the best way to see the city is to walk , this guide will indicate a route within each neighborhood , considering museums , entertainment venues , restaurants, hotels and all that can be interesting from every corner of this city.
WEATHER
Berlin enjoys a somewhat colder than ours with temperatures ranging between 25 º C and -5 º C. Climate In summer ( June to August ) temperatures often reach as much at 25 º C accompanied at times stormy , and in winter ( from December to February) it's natural that the thermometers down to 0 º C with some snow , if well color the landscape of true romance , can be relatively hard to bear the cold. It is also true that some winter days can be normal with clear sky . In the fall, the days are usually very changeable and rain alternating with sunny days with temperatures ranging between 7 º C and 18 º C , so we could say that during the spring is the best time in climate refers to visit the city, with pleasant temperatures around 20 º C.
Temperatures range in the following indicators:
January between -2 º C and 3 º C
February between -2 º C and 5 º C
March between 1 º C and 9 º C
April between 4 ° C and 14 ° C
May between 9 º C and 19 º C
June between 12 º C and 22 º C
July between 14 º C and 24 º C
August between 14 º C and 24 º C
September 10 º C and 19 º C
October between 6 º C and 14 º C
November between 2 º C and 8 º C
December between -1 º C and 5 º C
Every month it rains more or less alike, but between May and September are usually the most boiled . As for sunshine, the average falls between November and February even 37 a month up the rest of the year over 120 hours . July is perhaps the sunniest , with an average of 229 hours of sunshine month.
HOURS USE
In Berlin the corresponding time zone applies to Greenwich Mean Time , which is the same we use in Spain is UTC +1 , so there is no time variation. The clock advances the last Sunday in March and last one hour is late October.
BUSINESS HOURS
The hours at the offices of the city ranging from 9:00 to 18:00 from Monday to Friday with an hour break at noon. Shops are generally open a little later , between 9:30 and 10:00 h , but also tend to extend the closing time to 18:00 and even 20:00 pm on Fridays and Saturdays. The rest day in museums is not set equally for all so that, although the majority rests on Mondays, is easy to find others who do Tuesdays or Sundays . Meals are more suited to that Spanish European time and may eat from 12 noon , pudiéndonos find the kitchen closed from 15:00. In the evening hours are often more flexible and in some cases stay open until the wee hours of the morning.
COMMUNICATIONS
Internet
Internet is pretty cheap in this country and their prices can range from 0.75 per hour in the cheapest cafes in the city and 1.5 euros more expensive , depending on location and demand for these. In hotels , of course , this figure calmly hit three or four , but in some cases can have access to Wi -Fi for free. If this is the case , it would be advisable to bring a laptop from home. In other hotels you can expect to pay up to 8 euros for a Wi- fi connection, when in front of the same hotel we can find a small shop that sells drinks and feature free for less than 1 euro per hour. In the library of the Instituto Cervantes offer free Wi- fi and German Historical Museum also have two computers with free . We also have the ability to get into some bars or restaurants that have hung the sign of Wi -Fi and browse over breakfast or take a drink , yes , you need to ask before you order a drink so do not ask us to pay extra for the connection.
Phone
In the case of telephone calls and if we carry the laptop, it would open up a cheaper Skype account. Through this company and an internet connection we can talk about totally free with other Skype users or make calls to any country at bargain prices without paying roaming or more than unfair tariffs that we charge our phone company . To this we should provide our computer a mic and a speaker. In some cafes is possible to make calls from Skype , as have it installed and have helmets and microphones. In the case of not having computer and we had to call several times a day or stay connected with the outside world would take the advice liberalized a 3G phone and buy us at any phone shop Berlin a prepaid card for " cell phone" with its SIM , with which we could call the same prices as any German would. We can also buy from a prepaid card " phone you " to those sold in post offices for use in cabins Desutsche Telecom located throughout the city , including the subway platforms , although these phones also accept coins, or even use the parlors that some Turks have scattered throughout the city. The international code for calls to Germany is 49 and the prefix Berlin 030 . To call another country dial 00 plus the country code, ie to call Spain would mark 0034 and the phone number you want calling .
Free phones beginning with 0800 and higher cost as erotic numbers or customer some companies starting with 0190 or 0900 . 's Phone the police is 110 . To speak to the operator would mark the January 11, 41 and 11 August 34 in the case of international telephone information.
Post
Postal rates increase as in our country every year. For a card of up to 23.5 inches long would pay 0.65 euros and 0.70 euros if it is a letter up to 20 grams. To know exactly how much it would cost to send something Deutsche Post has posted on its website calculator rates depending on the size , weight and desired service: www.portokalkulator.de. The stamps can buy them at any post office or in some souvenir shops that sell postcards. To deposit the mail boxes are located in different places of the city, but we can also take them to a post office or deliver it to our hotel clerk if they have this service. Keep in mind that there are usually two slots : one exclusively for Berlin and another for the rest of the world.
Press , Radio and Television
Of course the Der Spiegel published www.spiegel.de in Hamburg is one of the most prestigious daily newspapers of Germany, although not the only , much less. Die Welt www.welt.de, Bild www.bild.de, Berliner Zeitung www.berlinonline.de, Der Tagesspiegel www.tagesspiegel.de, Berliner Morgenpost www.morgenpost.de y BZ www.bz-berlin.de are some of newspapers that can be found around town , plus free newspapers with pages and pages of advertising and explain some banal news medium .
There are the great Spanish press kiosks , especially those located in major train stations and the airport . As far as radio is concerned, there are plenty of stations including BBC World Service could highlight Kiss Fm 90.2 and 98.8 , among many others.
Twenty TV channels can be tuned without needing to pay the cable , between the channels can be found from other national and RTL SAT1 or exclusive channels of news or sports . Depending on the category of the hotel in which we are, we will be able to add these channels all charges.
ELECTRICITY
In Germany all plugs are prepared for two-pin sockets exactly like ours , so we need not take any adapter voltage is 220 volts , except for the toilets of some hotels , which can be 115-120 volts.
MONEY
Currency
As is more than resabido national currency is the euro , adopted in 16 of the 27 states of the European Union , known collectively as the Eurozone and those who naturally include Spain . In some gas stations and souvenir shops do not accept banknotes of 100 euros or more on what it may be desirable not only come with large bills . For tourists from other countries , there are exchange offices in train stations , airports and some around town.
Credit Cards
ATMs are scattered throughout the city in countless banks and Sparkassen (savings banks ) . Banks are private institutions. Local government manages the Sparkassen , hence their name : Berliner Sparkasse , Hamburger Sparkasse , etc. . It is always best to take money to a bank teller and be inside it and out of sight of everyone . Depending on the conditions that we have established with our bank , the commission can range from nonexistent to extremely exorbitant so you should inquire at our branch before leaving home. In most hotels and restaurants can pay our bills with a VISA or American Express card , you can even pay the way metro ticket with MasterCard , which would be the most advisable must manage cash money for everyday expenses and the rest pay by credit card carries no commission added .
Vouchers
Travellers checks can also be used in this country , especially those issued by American Express , but the best option is still take a couple of credit cards if you fail. However , in the case of American Express for example , in case of loss , theft or defect we will make a duplicate within 24 hours.
Telephones
The following numbers and addresses can get us out of trouble :
American Express 902 37 56 37
Visa 900-99 November 24
MasterCard 900 97 December 31
Diners Club 902 40 11 12
Berliner Bank 31,099,090 Kurt Schuhmacher - Platz
Gesch ReiseBank 296 4393 St Ostbahnhof
HEALTHCARE
As residents of the European Union do not need any insurance underwriting for emergencies . Until 2004 , the bilateral healthcare convienio forced us to request the Office of Social Security Form E-111 . Currently, this form has been replaced by a European health insurance card also requested in the SS bringing the DNI and Social Security Primer . This card is valid for one year. However , at this time only emergency treatment publicly funded , with the German state regulations so some treatments are included free , and others you have to pay part of the costs and ask , once we return to Spain , to reimburse us the money , for this reason it is very important to keep all your bills, prescriptions and receipts. For those who do not conform to these coverages can take out private travel insurance whose average prices hover around 75 euros for a 15 day trip . From the website of MAPFRE http://www.mapfre.com/seguros/es/particulares/soluciones/seguros-viajes.shtml can access the final price of what it would cost that insurance. A much cheaper option ( 45 USD per year año/1er free) and a much larger coverage that is no longer limited to a 15-day trip , but is unlimited in time is get a credit card with health coverage . American Express and Spanair, for example , promote the Spanair Plus credit card which in addition to health coverage , repatriation costs, etc, have other advantages such as free flights , access to airport lounges and compensation in the event that company misplaced our luggage. www.americanexpress.com/spain/spanairPlus
Germany has state public hospitals, nonprofit hospitals (often religiously affiliated ) and private hospitals.
Telephones of interest:
Charité Universitätsmedizin Berlin www.charite.de 030 45050
Martin-Luther-Krankenhaus www.mlk-berlin.de 030 89550
Klinikum im Friedrichshain www.vivantes.de 030 1302-30
Sana Klinikum Lichtenberg www.sana-kl.de 030 5518-0
St. Hedwig Krankenhaus www.dhzb.de 030 4593-1000
DISCOUNTS
If we 're lucky because students with International Student Card , the famous ISIC (International Student Identity Card) , can get up to 50 % off main museums and theaters in the city, and metro and train. For adults , there are three types of cards that can be purchased at the ticket machines Tube or buy from interenet on the same page www.bvg.de company that manages the U- Bahn . They call CityTourCard , CityTourCard Museum Island and Berlin Welcome Card , all of which offer discounts in certain museums and attractions combined with public transport.
TAXES AND TIPS
Usually the price contained in the letters outside the restaurant is the total price you pay once we bring the account. In the restaurants of a certain category usually leave a 10% tip , and the rest , at least change the coins . A three course meal can cost less than 15 euros , but can go up to 25 depending on the area . The average VAT paid in Germany is 19% . In hotels from 2010 reduced the rate of VAT is paid Actualemente and 7% , even if we eat breakfast or broken account and pay for these items by 19%. As citizens of the European Union we can not demand the return of VAT office.
PHOTOGRAPHY
Shooting in Germany is not easy . Its inhabitants are quite leery of leaving on any photo and do not hesitate to contact the photographer to perdir explanations , if they sense that have been photographed . To take some of the photographs in this guide has been needed a lot of explaining . Moreover, in some museums keep the table raja ban filming or photographing . People always expect you to ask permission to be portrayed , making it difficult to take candid photographs . This guide will try to give some photo tips in each chapter on how to improve our photographs.
Despite being now almost prehistoric days, there are still many shops in Berlin selling reels , slides and everything related to analog photography . As for photo shops out among all , Lomography Store Guide, http://microsites.lomography.com/stores/gallery-stores/berlin Friedrichstrasse 133, exclusively for the Lomo photography lovers with lot of books, cameras , posteres and accessories.
PASSENGERS WITH DISABILITIES
In terms of accessibility is one of the European cities that is better. Most hotel bathrooms , bars , restaurants and galleries are adapted . Some subway stations , especially towards the outskirts , still have elevators or ramps and for a person in a wheelchair is practically impossible to access the platform. A total of 51 stations U -Bahn and S -Bahn 118 are equipped for disabled access . The fleet of buses and trams , by contrast , has been modernized and almost all of them have easy access ramp . Theatres and cinemas built in recent years have been designed in order to ensure access for all people to any area . Fahrdienst Gebus GmbH is a company that offers people with disabilities and users of wheelchairs, transport services adapted as visitors in town with / without established program , transfers to / from hotels and tours in addition to any other requested by its customers on request / booking tours . The website is in German and English versions (www.gebus-gmbh.de). A repair service Wheelchair is available by calling 24 111 0180 47; may even facilitate replacing the damaged chairs . The Allgemeine und Blindenmission Sehbehindertenverein Berlin ( ABSV ) is the Federation of the Blind and Visually Impaired of Berlin: the association provides various services to this group to ensure their access to public places in Berlin and the surrounding area. They also organize recreational activities and / or programs in some holiday destinations specially designed for these people (www.absv.de/freizei solamente en alemán). En la nueva estación central (Hauptbahnhof) ha sido instalado un sistema de información y guía para las personas ciegas. Se puede obtener información sobre este sistema y la estación en www.absv.de (only in German). In the new central station (Hauptbahnhof ) has installed a system of information and guidance for the blind. You can get information about this system and the station www.absv.de ( only in German). The Blind Museum Johann- August Zeune ( Johann- August blindenmuseum Zeune ) is Rothenburgstraße in the Steglitz district . Most of the pieces shown in it can be touched , ( Rothenburgstraße 14, Berlin - Steglitz , Tel : +49 (30) 6321-20 23) . Although , using the search engine Mobidat base data (http://mobidat.pegasusserver.net), find detailed and comprehensive information on the facilities available accessibility for people with disabilities in 196 hotels, 23 B , 6 youth hostels , several guesthouses and campsites. We would like to make special reference to Hotel Mit- Mensch Berlin , run by people with disabilities. This is a small hotel offering fully accessible , of the 15 that comprise 7 adapted rooms ( single and double ) each with bathroom adapted . It has facilities for blind / visually impaired and deaf / hearing impaired people. It is located in Berlin- Karlshorst , Prinzenviertel , 15 minutes from Alexanderplatz , the center of the city, and 30 Friedrichstrasse and Kurfürstendamm shopping area . The hotel offers its guests free parking ( reserved seats) and his staff , upon request, be provided (additional charge) adapted transport to / from the hotel , as well as excursions and cultural visits adapted.
TRAVELLING WITH CHILDREN
More and more families are hesitant to travel with toddlers and the truth is that in a city like Berlin does not have any problem , especially if we seek entertainment to share with them . Younger , diapers are everywhere, but not very practical typical stroller on the subway as representing a tremendous effort by raising or lowering the endless stairs of some stations that are not yet adapted . You should carry a backpack Ergo baby carrier type www.ergobabycarrier.com that distributes the weight on hips and back. This guide in each chapter indicate what are the best activities we can share with the little ones.
LEGAL ISSUES
Entry Requirements
Being a country of the European Union under the Schengen agreement , just need the ID to enter Germany . This agreement allows abolish border controls between signatory States and created a single external border where immigration checks for the Schengen area are carried out under identical procedures. If you have lost your ID we go to the embassy of Spain in Lichtensteinalle 1 Phone 254 00 70 mail: Emb.Berlin.inf@maec.es
Customs
We can enter the country with 1 liter of spirits or 2 of wine, 800 cigarettes or 200 cigars . We can also enter duty free from the country of origin for the own use or consumption goods. If you travel with more than 10,000 euros in cash or travelers checks , money orders, etc. . , We declare them , because if not, they may think we are evading taxes or dedicating arms trafficking or drug and would be inspected more the appropriate sanction .
Spanish Embassy in Berlin
Telf: 254 00 70 http://www.maec.es/subwebs/Embajadas/Berlin/es/home/Paginas/home.aspx
Lichtensteinalle 1 10787 Berlin
e-mail: Emb.Berlin.inf@maec.es
German Embassy in Spain
Telf: 915579000 http://www.madrid.diplo.de/Vertretung/madrid/es/Startseite.html
Fortuny 8 28010 Madrid
German Consulate in Barcelona
Telf: 932921000 http://www.barcelona.diplo.de/Vertretung/barcelona/es/Startseite.html
Passeig de Gràcia, 111 08008 Barcelona
TOURIST INFORMATION
The most current information about the city in a wide range of possibilities such as hotels, restaurants, art , sports, etc..., we have concentrated on www.berlin-tourist-information.de which is also translated into Spanish at http://www.berlin-tourist-information.de/index.en.php
SAFETY
The city of Berlin is one of the safest European level , with relatively low rates of crime. This is due in large part to the hundreds of police patrolling every corner of the city. Anyway , it is always better to go with eyes wide open and in the suburbs increased security measures . Also pay more attention on the inputs and outputs of the U- Bahn and S -Bahn and poorly lit areas of Motzstrasse .
Emergencies: police, fire and medical : Tel 112
FACT
In a city like this curiosities could almost be alone why a book , so we had to make a summary of the most interesting :
- The Berlin Wall , which divided the city between August 13, 1961 and November 9, 1989 , had a length of 45 kilometers dividing the city into two parts , plus another 115 miles between the western part of Germany communist. This wall had a height of 3.6 meters. While the wall remained standing were killed trying to cross 152 fibula .
- The longest stretch of Wall preserved today is next to the red bridge Oberbaumbrucke , forming the East Side Gallery. They are 1.3 km. wall where more than 100 paintings are the art gallery of the world's largest open air.
- The sculpture "Butterfly ", by Henry Moore is considered the most expensive statue in Berlin located in a public space. Is based in Tiergarten and was a gift from the German Government to commemorate the 750th anniversary of the city,
-Werner Siemens and Johann Georg Malske marketed the first telegraph in a house Schöneberger Strasse .
- Ten percent of Berlin's population are immigrants, mainly Italians, Poles, Russians and Turks. The Turks represent one-third the population extanjera not in vain Kreuzberg is known as "Little Istanbul" .
- The chariot that flies the Brandenburg Gate in Berlin was withdrawn during 1806 by Napoleon to take to France as a war trophy , and was returned and restored after the fall of Napoleon in 1814.
Berlin - means " marshy land " and was baptized with that name because of the nature of the terrain in which it is located .
- The TV Tower, 368 meters high, is located near Alexanderplatz pueder be seen from anywhere in the city and is known by the nickname " Pope 's Revenge " . It was built by the Socialist Germany and the sun reflecting on the dome forms a steel beam in a cross that was hardly the Communists sought by construction effect.
- It's the third , with its 3.4 million inhabitants , the most populous of Germany 's most visited city of the European Union and the fifth of the entire European Union.
- The Reichstag dome is 40 meters in diameter and 23.5 tall, and weighs 800 tons. About 8,000 people visit the building each day for free to see the seat of the German Parliament and enjoy also of better aerial views of the city.
- The famous image of Michel Jackson taking your baby with his face covered by the window was recorded at the luxurious Adlon hotel near the Brandenburg Gate. This hotel has hosted the likes of Rockefeller , Marlene Dietrich , Edison, Chaplin and Hitler himself.
FESTIVALS AND CELEBRATIONS
Every month there are events and celebrations that can be very interesting to take them into account when planning our trip.
January
The first day of the year is celebrated Berliner Neujahrs Lauf , a four miles through the city that has as its starting point the Brandenburg Gate. http://www.scc-events.com/events/neujahrslauf/2010/
Day 6 bicycle race held in the Velodrome Landsberger Allee.
Between late January and early February is the Transmediale , a festival of art and digital culture.
The last week of this month we celebrate the Internationale Grüne Woche , an agricultural and food fair where you can taste delicacies from around the world. http://www1.messe-berlin.de
February
The International Film Festival , called Berdinale together the elite of filmmakers around the world around Potsdamer Platz during the second and third week of this month. Involved more than 19,000 film professionals from 120 countries with more than 4,000 accredited journalists. www.berlinale.de
March
Berliner Motorrad Tage . In late March this event dedicated to bikes and attracts large number of fans celebrated the country. www.berliner-motorrad-tage.de
April
During April Berliners celebrate Easter with markets scattered throughout the city, and holidays like Frühlingsfest Neuköllner or Britzer Baumblüte www.britzer-baumbluete.de to celebrate the arrival of spring .
May
At the end of the month the Karneval der Kulturen multicultural carnival is celebrated.
www.karneval-berlin.de berlin.de which are integrated under the excuse of this event in all cultures living in the city.
June
Gay Pride Festival , called here in Berlin Christopher Street Day . As in many of our cities , gays and lesbians take to the streets at a party in style at Checkpoint Charlie on the last Sunday of the month
On day 21, and to celebrate the arrival of summer , the Fête de la Musique is celebrated in Deutschland concerts all outdoors. www.lafetedelamusique.de
The Berlin Poetry Festival the first half of June attracting over 10,000 spectators annually, also is the largest poetry festival is celebrated in Europe. www.cervantes.de
July
From Friday to Sunday in the second or third week in Ferropolis http://www.meltfestival.de/ Melt Festival is held , an hour from the capital. In this festival the punk , funk , hip- hop, pop and indie- rock , electronica and house music fuses .
August
This month Fuckparade Berlin techno festival is celebrated. It is a festival in favor of subcultures on drugs both illegal and legal repression .
The last Saturday from 18:00 to 02:00 . Lange Nacht der Musen : On this day , a hundred museums, collections, archives , memorial centers and various exhibition halls keep their doors open for the enjoyment of citizens and tourists.
September
Mid-month is celebrated Literaturfestival www.literaturfestival.com, an international literature festival featuring readings, lectures by renowned authors from around the world .
Berlin Marathon . The last Sunday of the month is celebrated one of the most famous marathons in Europe that attracts runners from around the world. www.berlin-marathon.com and paralyzing traffic in the city.
October
Each year takes place on 3 October at around Unter der Linden, the Tag der Deutschen Einheit , or what is the same, the day of German Unity .
From the middle of the month is celebrated the Festival of Lights . In this festival the most iconic buildings and monuments stain color.
In the last days of the month is celebrated Latinale www.latinale.de, a festival of Latin American poetry Latin American looking for new talent in the field of poetry.
November
For lovers of jazz, early November is celebrated Jazz Fest Berlin
http://www.berlinerfestspiele.de/en/aktuell/festivals/07_jazzfest/jazz_start.php, which inaugurates the Haus der Kulturen in der Welt and flooded the city of good jazz.
KinderMusikTheater www.kindermusiktheater-berlin.de, this is a children's theater and music festival for kids with activities for everyone .
December
Christmas Fairs . From late November and throughout the month of December the whole city was filled with Christmas markets, where besides buy Christmas-related items , you can taste local cuisine.
New Year. The venue in this city for that day as indicated by the Berliners call Silvestre , is the Calle 17 June between the Brandenburg Gate and Victory Column . Every year about one million people gather here.
BERLIN IN YOUR POCKET
Publication Date: March 2013
Language: Castilian
Price: € 9,95

BEST GUIDE PDF
BERLIN LOW COST
Children Berlin
Berlin: Europe also for children
CHARLOTTENBURG
Located east of the Havel River and south of the river Spree , Charlottenburg was founded in 1705, and for many years was an independent city in which he lived part of Berlin's aristocracy. During the fall of the Russian army in 1806 , was occupied by the French, and Napoleon lived in the palace. Berlin was unified in 1920 during the Cold War and became the center of West Berlin , but after reunification that center moved to Mitte . Its main attraction is the Schloss Charlottenburg , with its museums , palaces, gardens and luxurious buildings of the late nineteenth century.
1 Keramik-Museum Berlin. www.keramik-museum-berlin.de Schustehrusstraße 13 Sat / Sun / Mon from 13:00 to 17:00 and on request tel. 030-90 29 12 948 Input: 2 euros. U- Bahn <Richard-Wagner Platz> The KMB , with which it is known colloquially , was founded in 1990 but began opening its doors in 2004 . , This museum showcases ceramic works mostly from the nineteenth and twentieth centuries under the German cultural influence. Include vessels, sculptures, ceramics , kitchen tiles , along with a photo library and document archive collection as shown . Acualmente working on building a workshop for artisans and artists to perform demonstrations of their methods to museum visitors . Sometimes temporary exhibitions are incorporated , especially between the months of October to March.
2 Luisenkirche Evangelical Church. www.luisenkirche.de Gierkeplatz . Dom from 10 to 11:30 and 18:00 U- Bahn <Richard-Wagner Platz> . Not far from the museum earlier this church built in 1713 and restored in 1823 by Karl Friedrich encuetra . His name is in memory of Queen Louise died in 1810 , although at present , elegant vidirieras , much of its ornamentation and its tower are due to subsequent rehabilitation since the Second World War was practically destroyed.
3 Schlosstrasse. Schlosstrasse 65,66, y 67. U-Bahn <Richard-Wagner Platz>. Going east on Schustehrusstraße , we reached the Schlosstrasse Avenue. This area of ??the city was created in the late nineteenth century as a suburb of neoclassical mansions , and you can still get an idea of ??how they used these big houses with gardens in the front. Today, these mansions are under protection of national heritage. In addition , this area also was important in those years have the highest density of poets around Berlin. In this section , the author Günter Grass wrote his classic novel " The Tin Drum " and buried the famous German actress and singer Marlene Dietrich.
4 Bröhan Museum. www.broehan-museum.de Schlosstrasse 1a. U-Bahn <Richard-Wagner Platz> <Sophie-Charlotte Platz>. From Sea to Sun from 10:00 to 18:00 . Closed holidays. Tel 906 00 Input: 8 euros / students 4euros/menores 18 free . You are not allowed to take pictures inside . Like the Berggruen Museum, Bröhan has an exquisite private collection of works mainly from Art Nouveau, Art Deco and functionalism. His works of decorative art, are placed that are integrated in space as a decoration rather than display . Alongside artists paintings belonging to the secessionist movement in Berlin , such as Hans Walter Balischek or Leistikow also find examples of other arts such as furniture, pottery, porcelain , textiles, glass and silver. Many important figures in the history of decorative arts and furniture making are represented in this museum , as Friedrich Adler , Peter Behrens, Emile Gallé , Josef Hoffmann and Georg Jensen , among others. The museum founder , Professor Karl H. Bröhan donated his collection to the city of Berlin in 1981.
5 Berggruen Museum. www.smb.museum Schlosstrasse 1 U-Bahn <Richard-Wagner Platz> <Sophie-Charlotte Platz>. From Sea to Sun from 10:00 to 18:00 . Closed holidays. Tel 266 36 66 Admission: 8 euros / students 4euros/menores 18 free . You are not allowed to take pictures inside . Titled " Picasso and his time" is projected on three floors , paintings , sculptures and works on paper . The museum is famous for housing more than 100 works of Picasso paintings, drawings and gouaches . They are represented works ranging from his student days in 1897-1972 , through the Blue and Rose periods, Cubism and classicism. The museum also features paintings by Paul Klee 60 , 20 works by Henri Matisse, Alberto Giacometti sculptures and examples of African art. Other paintings by Van Gogh, Cézanne and Braque complete the exhibition . Heinz Berggruen , the largest private collector of Picasso, died in February 2007 in Paris where he spent much of his life, he bequeathed his private collection to the city of Berlin, where he was born in 1914. Son of a merchant of library items and stationery, was passionate about Picasso throughout his life , especially works created was enthusiastic during the Second World War and the decade from 36 to 46, when he lived with Dora Maar.
6 Colección Scharf-Gerstenberg. www.smb.museum Schlosstrasse 70 U-Bahn <Richard-Wagner Platz> <Sophie-Charlotte Platz>. From Sea to Sun from 10:00 to 18:00 . Closed holidays. Tel 35 73 15 Admission: 8 euros / students 4euros/menores 18 free . You are not allowed to take pictures inside . Right in front of the Museum Berggruen , is this interesting collection of paintings , sculptures and manuscripts from surrealist artists . It's 250 works that point to a less known surrealism and darker printed in memory of the twentieth century. His works include pioneering works of this movement as Giovanni Battista Piranesi Prison , or the Dream of Reason Francisco de Goya. Are accommodated large representatives of the twentieth century as Paul Klee , Salvador Dalí and René Magritte. The museum also features a movie theater in which classics are projected as Un Chien Andalou by Luis Buñuel. Through his collage technique show human figures and masks Jan Debuffet , floating forms of Odilon Redon and fragments of objects Giorgio de Chirico. Alongside these works, and surreal way , also in the same building columns and Sahure ancient Temple of Kalabsha Gate Collection Egyptian Museum , which had its silk here until 2008 , the year in which was transferred to Museum Island.
7 Charlottenburg Palace. CHILDREN www.spsg.de Spandauer Damm 10-22 U-Bahn <Richard-Wagner Platz> <Sophie-Charlotte Platz>. Del 01-11 al 31-03, From 01-11 to 31-03 , from Tue to Sun from 10:00 to 17:00 . From 01-04 to 31-10 from Tue to Sun from 10:00 to 18:00 . Closed holidays. Tel 0331 96 94 200 Admission: 10 euros / students $ 7 . It is only allowed to take pictures buying a special ticket for this purpose. ( Birthday celebrations for children 7-12 years Bookings: . 94-200 0331 -96 ) . This palace , which is one of the emblems of Berlin, is the largest and most beautiful city and a clear example of Baroque architecture. It was built by the architect Johann Arnold Nering between 1695 and 1699 as a summer residence for Sophie Charlotte , the consort of Prince Frederick III and , initially , this palace was known as Lietzenburgo . In 1701 Sophie was crowned queen and Frederick III became King Frederick I of Prussia. At four years died and Sophie King Federido I renamed Castle Charlottenburg in the honor of his wife. This palace , which was home to Prussian nobles is now a museum that tries to reproduce as these famous once lived . Luxurious furniture belonging to Frederick William III , Chinese and Japanese porcelain , decorate rooms and units in which it is possible to see even huge canvases Antoine Watteau bought by Frederick the Great mime . Some parts of the chapel pulpit are original period , but other furniture and decorations are trying to reproduce copies of old works . In the courtyard of Schloss Charlottenburg entry of the Monument to the Great Elector Reiterdenkmal des Grossen Kurfursten is displayed . This equestrian statue cast in bronze , one of the most beautiful in the city , was designed by Andrew Schulüter between 1696 and 1703 . , Decorated with scenes represetan on one side the figure of a triumphant warrior , dressed in ancient armor on a pedestal figures lying in the POW . In this allegorical icons represetan also muestan Faith , Courage and Strength.
8 Charlottenburg Palace Gardens. CHILDREN www.spsg.de Spandauer Damm 10-22 U-Bahn <Richard-Wagner Platz> <Sophie-Charlotte Platz>. Open all day. Free admission. Actual or also called Palace Park , extending in the back, began to make in 1697 by Simeon Godeau Baroque French style gardens , and continued expanding in 1788 with a more geometric style gave way to an English landscape garden . During the war , the grounds were quite shattered and returned to rebuild the baroque style. For Berliners these gardens are one of the most important green areas of the city and a place of worship on weekends , either to have a picnic , go cycling or jogging . The park runs east of the River Spree , with winding roads, lots of nature and some replicas of ancient sculptures , and a manicured lawn and beautiful flowers. In the central part of the gardens is a huge lake full of ducks, which are distracting the little ones come with their parents to feed them bread , especially on holidays.
9 Museum für Vor-und Frühgeschichte. www.smb.museum Spandauer Damm 10-22 U-Bahn <Richard-Wagner Platz> <Sophie-Charlotte Platz>. Closed and moved to Museum Island. In this old neoclassical pavilion housed the Museum of Prehistory and Early History , who made a tour of the first cultures and civilizations , but from the October 16, 2009 the museum has been moved permanently to the Neues Museum on Museum Island area . The building was designed by Karl Gotthard Langhans from 1787 to 1791 to be used as a theater of the court and was known as Schlosstheater Charlottenburg . In the same year , Kart , relevant figure of classicism , was working on the construction of the Brandenburg Gate . The theater played an important role in the German theatrical history as Frederick II it became a center of German literature , being shown in its esceneraio works of Goethe and Lessing among many others.
10 Neuer Flügel. www.spsg.de Spandauer Damm 10-22 U-Bahn <Richard-Wagner Platz> <Sophie-Charlotte Platz>. Del 01-11 al 31-03 From 01-11 to 31-03 from Wed to Fri from 10:00 to 17:00 . From 01-04 to 31-10 from Wed to Fri from 10:00 to 18:00 . Closed holidays. Tel 0331 96 94 200 Admission: 6 euros / students € 5. Only allowed to take pictures buying a special ticket for this purpose. This new wing of the palace was built during the reign of Frederick the Great in 1746 in charge of the project Wenzeslaus Georg von Knobelsdorff , who gave him a Rococo style. This castle stands above the White Room , which was the dining room when there was a gala , light greenish Gold Gallery and the concert hall with paintings of the eighteenth century. Upstairs are the winter quarters of Frederick William II of neoclassical style. Objeros pertenenecientes some curiosities and Frederick , as his collection of diamond encrusted tobacco , period furniture , Meissen figurines , and some of the Prussian crown jewels are also on display . Sometimes temporary eposiciones and gala dinners are held in the style of the time.
11 Neuer Pavillon. www.spsg.de Spandauer Damm 10-22 U-Bahn <Richard-Wagner Platz> <Sophie-Charlotte Platz>. Closed for restoration until May 2012. The new pavilion , Italian neoclassical architecture and appearance , was designed by Prussian architect Karl Friedrich Schinkel after the custom of William III. During a visit to Naples, the king stayed at the Royal Villa of Chiamonte and so impressed was commissioned to build a summer palace in this inspiring . Schinkel design incorporating white columns in the front that was shaped like a cube in two floors with a more elegant interior. This was the home of Frederick William married his second wife Countess Auguste von Harrach , whom he met in 1922 while on vacation in Treplitz . Being a morganatic marriage , since she had no noble distinction , could not live in a building the size of a castle. Here you can see the extraordinary collection of paintings of Caspar David Friedrich and Karl Friedrich Schinkel.
12 El Mausoleum de Charlottenburg. www.museumsportal-berlin.de Jardines del Palacio de Charlottenburg. U-Bahn <Richard-Wagner Platz> <Sophie-Charlotte Platz> from 01-11 to 31-03 from Tue to Sun from 10:00 to 17:00 . From 01-04 to 31-10 from Tue to Sun from 10:00 to 18:00 . Closed holidays. Tel 32 14 September 46 Input: 2 euros / students 1.5 euros. It is not allowed to take pictures inside. Just after the death in 1810 of his beloved Queen Louise , wife of Frederick William III , was commissioned to build this mausoleum designed by Hainrich Gentz ??. The interior room was intended at first only for the marble sarcophagus of the Queen , but once her husband died the King in 1840, it was decided to expand the mausoleum according to the first designs of Schinke , adding an apse . Porsteriormente , and after the death of Emperor William I in 1888 and his wife Augusta in 1890 , the building was expanded again sacófagos marble and placed next to the existing two . Alongside these royals were also buried in a crypt beneath the mausoleum and closed to the public , the bodies of Princess Augusta von Liegnitz ( the second wife of Frederick William III ) , and Prince Albert , and the heart of Frederick William I placed at the feet of their parents.
13 Belvedere. www.museumsportal-berlin.de Jardines del Palacio de Charlottenburg. U-Bahn <Richard-Wagner Platz> <Sophie-Charlotte Platz>. From 01-11 to 31-03 De Mar to Fri from 10:00 to 17:00 . and Sat and Sun from 12:00 to 16:00 . From 01-04 to 31-10 from Tue to Sun from 10:00 to 18:00 . Closed holidays. Tel. September 14 46 32 Admission: 3 euros / students 2.5 euros. It is allowed to take pictures inside. Commissioned by King Frederick William II of Prussia, Carl Gotthard Langhans Belvedere pavilion erected oval structure in these places surrounded by nature. It was built originally as a gazebo , for performances of works of chamber music and as a tea room but also served in wartime lookout tower. After the Second World War took place from 1956 to 1960 a major reconstruction of antique prints which had been severely damaged. Since 1971, the fate that has been given to the three rooms that make up the building is to house the largest public collection of porcelain from the KPM ( Royal Porcelain Manufactory Berlin ) . The collection includes works by Gaspar Wegely manufacturers Wilhelm (1971-1757) , Johann Ernst Gotzkowsky (1761-1763) , in addition to the collection of KPM since 1763 , when it was taken by King Frederick II. You can also admire paintings of cherubs , commemorative mugs for the release of the Napoleonic occupation , rococo and neoclassical services table, plus huge vase superbly painted with a view of the royal palaces and gardens.
The statues that currently tops the dome was created in 1960 by Karl Bobeck imitating the original figures had designed Johann Eckstein.
14 Funkturm. CHILDREN www.funkturmrestaurant.de Messedamm 22. U-Bahn <Káiserdamm> Remark: 10:00 to 20:00 Monday and Tues-Sun from 10:00 to 23:00 (sometimes closed if weather conditions are not appropriate ) . Restaurant: Mon to Sun from 11:30 to 23:00 and 18:00 to 23:00 Sea . Closed on Mondays. Tel 030 30 38 29 00 Input (including gourmet menu : 23 euros ) . . This restaurant is located at 52 meters high in one of the most iconic towers within the city. It was built with a large frame similar to the Eiffel Tower in Paris steel, and is 150 meters long , weighing 600 tons. The tower was built between 1924 and 1925 and was inaugurated on 25 September of that year with a broadcast on medium wave frequency of 520.8 kHz. At first it was only designed as a radio tower , but was later year a restaurant and an observation deck at a height of 125 aproximanda meters accessed via a lift to a speed of four meters per second. It has two characteristics that make it unlike any other tower. The first is that it is built on an area of ??20 square meters with a ratio of the area by the height of 1:6,9 , compare this to , for example, the Eiffel Tower , it is held in an area of 129 square meters with a height - area ratio 1:2.3 . The second peculiarity is that it is the only tower in the world that uses porcelain insulators . These were made ??by KPM ( Royal Porcelain Factory in Berlin) to prevent transmission power losses , but initially caused some electrical tourists going up and had to be remedied by placing an axis through the elevator. The March 22, 1935 was transmitted from an antenna placed on top of this tower the first regular television worldwide , and in 1962 ceased to be used for television broadcasts.
PHOTOGRAPHY
It is clear that this part of the city's best photos should be the Charlottenburg Palace and its gardens . The Palace is very well lit early in the morning, and although it is not open, the gates of the input can help us to compose a good image. In the magic hour , when the sun has just gone we can also get good photos from the same place , but leaving the camera resting on a fixed place that does not move , such as giant letters that advertise the new museums of Potsdam 2012 . interiors of all the resorts to visit, the most representative and aesthetic to buy an extra ticket to photograph is also the Charlottenburg Palace . At night , in the royal gardens of the back and from the back of the lake bridge can do good night shots with the reflection in the water palace.
WHERE TO BUY
Königsberger Marzipan Wald. www.wald-koenigsberger-marzipan.de Pestalozzistr 54 a Telf 030 323 82 54. En familiar in this shop, we can find all types of traditional marzipan made ??using traditional methods . Historically königsberg marzipan was typical of East Prussia , but in actulidad this name is associated with a type of German marzipan made ??with less sugar and a darker color.
Wilmersdorfer Arcaden. www.wilmersdorfer-arcaden.de Wilmersdorfer Strasse 46-49, Telf. 318 0529-0. (Mon-Sat from 8:00 to 22:30 and 12:00 to 18:30 some Sun ) . It is a modern open in 2007 mall has 125 stores , and other services such as restaurants , kindergarten , post office, gym, clinics, dentists , etc ... Among the stores we can find dede H & M , Foot Locker, Jack & Jones, and The Phone House, among many others.
Bellet Shop E. Güldner. Sesenheimer Strasse 13. Telf. 312 24 92. (Mon- Fri 10:00 to 18:30 and Sat 11:00 to 16:00). This shop specializes in ballet and sell all kinds of top brands complemetos to practice dance. It also has props for flamenco, oriental dances , tango, mambo , yoga , salsa , fitness and aerobics. There's ballet shoes from 35 euros.
Freilich GmbH & Co. www.freilicht.com Suarezstrasse 43 Telf. 321 80 50. (Mon to Fri 10:00 to 19:00 and Sat 10:00 to 15:00 ) . In this store will find all kinds of lamps modern lighting fixtures. It also offers accessories such as books , gift clock, weather stations, lighted trees , or devices to be collected cables office even has Christmas lights .
Books in Berlin . 69 Goethestrasse . Tel 31 31 233. (Mon- Fri 12:00 to 20:00 Sat 10:00 to 16:00). In this library will find both new and second-hand books in English and American literature. Often books or symposia presentations and Anglo American authors are internationally renowned .
WHERE TO EAT
Funkturm. www.funkturmrestaurant.de Messedamm 22. U-Bahn <Káiserdamm> y Bus 104 (from Wed to Sun from 11:30 to 23:00 and 18:00 to 23:00 Sea ) . Closed on Mondays. Tel 030 30 38 29 00 . This restaurant is located at 52 meters high in one of the most iconic towers within the city. It offers a gourmet menu for 23 euros which is quite acceptable , but only because the views are worth it.
Marjellchen. www.marjellchen-berlin.de Mommsenstrasse 9. Telf 88 72 98 90. ( the kitchen is open from 17:00). It is one of the restaurants rated by Berliners as to Prussian specialties are concerned, in a retro atmosphere. Prices for main courses range from 10.50 euros Meatballs " königsberg " with parsley potatoes and red beets , to 20.20 euros Hare fillet roast cherry sauce served in East Prussia.
Nu. www.nu-eat.de Schluterstrasse 55. Telf 88 70 98 11. ( Monday to Friday from 12:00 / Sat from 14:00 and Sun from 17:00). Asian restaurant , which dishes we can find any Asian country : Indonesian , Thai, Chinese , Vietnamese and Japanese among others. Entrees move between 7 and 11 euros and the decor is quite modern and futuristic with bold colors.
Kushinoya. www.kushinoya.jp Bleibtreu Strasse 6. Telf. 318 098 97. (Tuesday to Sunday between 18:00 and 24:00 ) . Authentic Japanese food at not too expensive prices. This restaurant is based in Tokyo and the chefs were trained in Japan. It mainly specializes in developing meridados succulent fried skewers with homemade sauces , among them eg Wildente ( wild duck with cassis sauce) and Tofu mit Yuzuaroma ( with crab , carrot and Japanese herbs) .
Hermanns Einkehr. www.hermanns-berlin.de Emser Strasse 24. Telf. 308 871 74 75. (Tuesday to Sunday between 18:00 and 24:00 ) . This restaurant has tables both inside and outside . It is best to book as it is almost always full . A couple eating a couple of main dishes with good wine and water roughly pay about 75 euros. Main dishes include roast beef with glazed onions in Lembergersoße and veal chops with cranberries.
CULTURE - LEISURE - Where for drinks
B2B Nightclub. www.myspace.com/b2b_nightclub Káiser-Friedrich Strasse 94. Telf 030 34621288. Wednesdays to Saturdays from 20:00. This is a good place to have a drink with low lighting. Prices are pretty tight and his specialty is Tai Mai.
Deutsche Opera. www.deutscheoperberlin.de Bismarckstrasse 35. Telf. 343 84 01. Doors open one hour before the performance. Tuesday to Sunday from 18:00 , depending on each performance. Tickets can be purchased at the same site . Here , the German Opera Berlin , perform works of all kinds since 1961 , when it was inaugurated the new headquarters . The company was founded in 1911, but was low hours during the Nazi era . Both classic and modern operas , to chamber music, symphonic concerts and even ballet are represented.
Wilhelm Hoeck. www.wilhelm-hoeck.de Wilmersdofer Strasse 149. Telf 030 341 31 10. Wednesdays to Saturdays from 20:00. This tavern has been serving beer, wine and champagne since William Hort 's opening in 1892. It's an interesting place to visit off taking advantage of the opera is pretty close . These walls were forged numerous stories since they opened over a century ago , including shrapnel belonging to WWII are preserved. The owner proudly explained as the son of Horst won an Olympic medal at the Olympics in Los Angeles , 1932.