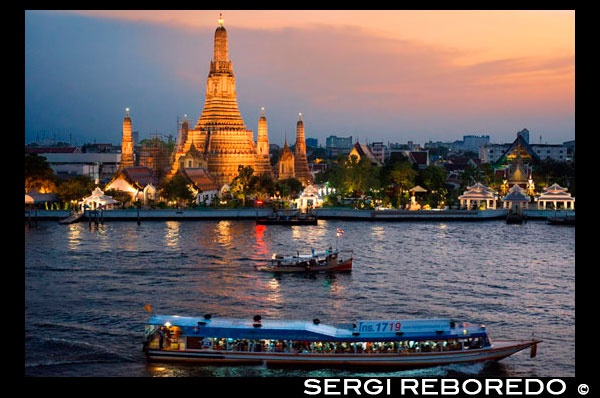 Click on the picture to see more photos.
Text and Photos: Sergi Reboredo
WEATHER SIM CARDS AND
Bangkok has a tropical monsoon climate and holds claim to being the hottest city in the world. Sitting close to the equator, it is both hot and humid in equal measure, is unrelenting simply because it doesn't cool significantly at night. The period between April and May is the steamiest (avg. 25-35° C). The Southwest monsoons arrive between May and October, and with it pouring rain and thunderstorms – for many, though, this is a welcome respite. http://
AIRPORT TRANSFERS
All road transport to downtown Bangkok is located on the 1st Floor. The Airport Link (06:00 - midnight) is the fastest mode (Express Line takes only 15mins), while taxis require an additional 50 baht on top of the meter fee and expressway tolls. Running a fixed route to four downtown areas, namely Silom, Sukhumvit, Khao San or Hualamphong (Central Train Station), the Airport Express Bus (05:00-midnight) is the cheapest way to go.
If cost is not your main concern, then why not save the trouble and use the airport limousine service (24 hours)? You can book one in advance through the Bangkok.com website or, upon arrival, locate the nearest service
counter in the arrival hall (2nd Floor).
DIALING PREFIXES
Pre-paid SIM cards are available for purchase at most convenience stores (you will find 7- Elevens everywhere) as well as the service operators' shops – DTAC, AIS and TRUE – located inside shopping malls. To make a call to a landline within Bangkok, dial 02 then the seven-digit number. Making a call outside Bangkok requires a three-digit area code, starting with 0, the area code, then the six- digit number. Calls between mobile phones require the three-digit prefix (08x), followed by the seven-digit subscriber number.
GETTING AROUND
Bangkok's traffic is notorious, particularly during the rush hours when road transport should be avoided at all costs. Better alternatives are the Skytrain (BTS) and Underground (MRT) rail systems (06:30- midnight), together connecting the main shopping, entertainment and business areas of the city. Consider buying a one-day BTS pass, which may help save you a few baht, or a store-value Smart Card, for the sake of convenience.
Taxis are ubiquitous, while tuk-tuks – once an icon of Bangkok – are fast disappearing from the streets; simply hail one from anywhere along the pavement, but be careful not to block the on-coming traffic. For sightseeing along the riverside, the river ferries and express boats (06:00-20:00) come in handy. Start your journey at the Sathorn Pier (BTS Saphan Taksin), then hop on and off at
whichever point you like.
BANGKOK AREA GUIDES

Covering an area of 1,500 sqkm, the greater Bangkok Metropolis fits into the 'big city' league with ease. Add to that an estimated ten million inhabitants, more than 30,000 taxis and an ever-increasing number of tourists, and you'll soon realise that getting to grips with such a vast concrete jungle is no easy feat, especially if you're a first-time visitor. This is where our Area Guides come in pretty handy...

1 SUKHUMVIT
The longest road in Thailand and the centre
of up-to-the-minute shopping, eating and nightlife, Sukhumvit has something to offer all visitors. While there are touches of 'Thai-ness' on every corner, the many fashionable restaurants, bars, air-conditioned malls, hotels and clubs give the area a distinctly modern, cosmopolitan flavour. Some of the city's most 'sinful' spots, red-light districts Nana Plaza (Soi 4) and Soi Cowboy (off Soi 23) are also here. The elevated Skytrain (BTS) helps make exploring incredibly easy.
2 SIAM
Siam is unquestionably the centre of shopping
in Bangkok, home to some of the city's most popular and important shopping centres like MBK, Siam Discovery, Siam Center, and Siam Paragon. Within Siam Square itself, there is a wide range of shops and services, including restaurants, cafés, designer clothing boutiques, record stores, cinemas, bookshops, a Hard Rock Cafe, hotels and banks. Shoppers vary, from students to office workers, trend-setting city dwellers and, of course, a throng of tourists.
3 SILOM
Silom is an area of contrasts. By day, sharply
dressed business folk head into the numerous high rise offices and financial institutions along Silom Road. While at night, many of Bangkok's finest restaurants bring people from far and wide, as well as the infamous nightlife scene around Patpong. Silom enjoys excellent public transport options and, bordered by the Chao Phraya River on one side and Lumpini Park on the other, there are a host of different experiences to be had.

4 RIVERSIDE
Bangkok's riverside is where its historic roots
lie; the traditional heartland of this magical city with origins that read like an epic novel. One of the most fascinating and scenic areas of Bangkok, the riverside reflects a constantly changing scene; water-taxis ferrying commuters and heavily laden rice barges chugging upstream, set against a backdrop of glittering temples and palaces, historical landmarks and luxury, five-star hotels. Despite some modernisation, the area has retained its unique identity and seductive charm.
5 KHAO SAN & OLD CITY
The Old City (Rattanakosin) is home to
Bangkok's most spectacular and revered historical attractions, among them The Grand Palace, Wat Phra Kaew and Wat Pho. Not only part of the Kingdom's rich past, but intrinsic to it, a day or two exploring here provides a deep insight into the heart, soul and psyche of the Thai people. Part of the Old City, Khao San Road is jam-packed with budget guesthouses, internet cafés, lively bars and clubs, restaurants, massage parlours, travel agents, tattoo shops and more.
6 CHINATOWN
Busy, bustling and packed with market stalls,
restaurants, shrines and the greatest concentration of gold shops in Bangkok, Chinatown is an experience not to miss. After sunset, the entire strip becomes a food haven for gourmands who flock here to enjoy street- side cuisine. The energy that oozes from its rows of wooden shop-houses is plain contagious and will keep you eager for more. Plan your visit during festivals, like Chinese New Year and the vegetarian festival in October, for Chinatown at its hectic best.
Bangkok, the best links.

Airport Rail Link
This line provides service between Phyathai Station to the end terminal at Suvarnabhumi Airport within 30 minutes, which stops at 6 stations along the way such as Rajprarop Station, Makkasan Station, Ramkhamhaeng Station, Hua Mark Station, Thab Chang Station, and Lad Krabang Station. It covers a distance of 28 kilometers. Welcome!
http://www.srtet.co.th/en/index.html →

Aksra Theatre
560 Baht for a performance which includes traditional thai rod puppet shows for 45min. This covers various traditional Thai dances and scenes from the Ramakien. The puppets are intricately designed, the stage sets are fantastic and the orchestra is amazing. For every 2 tickets purchased, you receive a meal voucher at the nearby Ramayana restaurant. King Power Mall offers free pick up and drop off to independant foreign tourists.
http://www.kingpower.com/entertainAksaLanding →

ASEAN Tourism
South East Asia is the generally accepted name for a series of island and peninsulas which lie east of India and west of China. South East Asia is blessed with abundant sunshine and plentiful rain. With the exception of North Vietnam and a few mountain locations, virtually all of South Asia falls within the 27-360 C annual temperature range. This is a general presentation of all the countries that make up Asean.
http://www.asean-tourism.com/ →

Baiyoke Sky Tower
Opened in 1998 the Baiyoke Tower is Thailand's tallest building - 309 metres tall or about the height of 182 people standing one on top of the other. There is 85 floors, with a public observatory on the 77th floor, a bar called "Roof Top Bar & Music Lounge". The tower contains the Baiyoke Sky Hotel, the tallest hotel in Southeast Asia and the third-tallest all-hotel structure in the world, with 673 guest rooms.
http://www.baiyokehotel.com/ →
Bangkok
Thailand capital, was also known as Krung Thep. After selecting from four available languages, start your virtual tour with beautiful visuals and a slightly quirky design.
http://www.bangkoktourist.com/ →

Bangkok Art & Culture Centre
The Bangkok Art and Culture Centre is a new mid-town facility for the contemporary arts. Programmes for art, music, theatre, film, design, and cultural/educational events take place in a friendly and recreational atmosphere - with cafe, estaurants,bookshops, and an art library being part of the facility. You are welcome to visit!
http://en.bacc.or.th/content/bacc-mission.html →

Bangkok International Trade & Exhibition Centre
Bangkok International Trade & Exhibition Centre's world-class, state-of-the-art facilities coupled with its comprehensive services encompass the best of traditional Thai warmth and hospitality. Since opening its doors in 1997, BITEC has been selected by a host of international organisers as the venue for their international trade exhibitions, world congresses, and a wide variety of MICE events. Enjoy your visit here!
Bangkok Metro
Bangkok Metro has become the first metro operator in Thailand. It provide mass transit services to the public with a safe, convenient, fast, reliable and punctual metro system to alleviate traffic congestion, maintain the environment and improve quality of life." to correspond with its Motto that "Service above all else".
http://www.bangkokmetro.co.th/index.aspx →

Bangkok Shooting Range
Bangkok Shooting Range, worth it for the experience. Been there, seen it, done it and bought the T-shirt! The Bangkok Shooting Range, is a brilliant and very safe experience. Gun Shooting tour accept online enquiries and Booking through their online enquiry and Booking forms. Join it!
http://www.bangkokshootingrange.com/ →

Banglamphu
The place to be if you are a 20's backpacker. Fun to visit occasionally if you are older. Great transportation hub. Visit now!
Bank of Thailand Museum
Welcome to the Bank of Thailand Museum. The exhibition style of the Museum derived from a concept of edutainment that the Museum should educate as well as entertain the public. Items on display include old photos and antiques. New techniques and technology are also employed such as the diorama technique, computer graphics, and multimedia.
http://www.bot.or.th/English/BOTMuseum/About/Pages/Intro.aspx →

Bungsamran Fishing Park
Bungsamran is established on March 1983 it is filled with more than 50 kinds of both carnivorous and herbivorous game fishes, including Giant Catfish from Mekong River, Giant Carp etc. There are thousands and thousands of large fishes ready to challenge your skill as well as for you to set a new record.
http://www.bungsamran.com/index.php/en/ →

Calypso Cabaret
Welcome to Calypso Cabaret a show , which makes the difference. The human being's natural beauty - live on stage. If you 've seen one , you 've seen them all. Well if you travel to Thailand and stay in Bangkok , plan to see this show. It will give you an unseen and unheard-of experience.
http://www.calypsocabaret.com/ →

Chanthaburi
Located in the east of Thailand, at the banks of the Chanthaburi River, this city has a number of cultural charms to complement the beaches. This website gives the basic info in a simple but adequate design.
http://en.tat-chanthaburi.com/ →

Chao Phraya Express Boat
The Chao Phraya Tourist Boat provides service to 8 piers, which in turn give access to Bangkok's most famous attractions. The journey starts from the Central pier and proceeds up the river, stopping at 8 pier and returns back to Central Pier on the same route. You can freely get on and off at any pier to explore the beauty of sites in surrounding areas.
http://www.chaophrayaexpressboat.com/en/home/ →

Chiang Mai
Chiang Mai is in terms of quality of living, tourist attractions and development potential, it's an appropriate and a great city. The city is famous for her friendly people, beautiful women, refined handicrafts, cool climate and stunning mountain scenery. More than three-hundred temples, among them some of the most beautiful and revered in the entire Buddhist world, give the city an atmosphere of calmness and timeless elegance. Accommodation and food are of the highest standard at very low cost. Entertainment is plentiful with numerous festivals, outdoor activities and great nightlife.
Chiang Rai
Chiang Rai is the northernmost large city in Thailand. This website tell you destinations to go including elephant camps, black houses or white temples and seeing the long-necked women... Extensive hotel listing can help you plan your stay.
http://www.chiangraitourism.com/ →

Dusit Zoo
Koalas, elephants, zebras and pandas are just some of the 1,600 animals on display in this fairly well-maintained zoo. The zoo also boasts large green spaces and a pond with paddle boats. Welcome in to the wild ... welcome to the Dusit Zoo.
Erawan Museum
Erawan is massive and awe inspiring. The inside is beautifully decorated and you can take the stairs or elevator to the top. Definitely a must see when going to Bangkok.
http://www.erawan-museum.com/ →
BANGKOK IN YOUR POCKET
Publication date: March 2015
Language: Castilian
Price: 9,95 €

BEST GUIDE PDF
Children Bangkok
Children Bangkok: city also for the kids
Hotels
BEST LUXURY HOTELS
1 THE ST REGIS BANGKOK, 2 LEBUA AT STATE TOWER, 3 SIAM KEMPINSKI HOTEL CHIDLOM-PLOENCHIT RIVERSIDE BANGKOK
With a 24 hour butler a mere phone call away, the service at St Regis is unparalleled. The spacious, elegant rooms display subtle Thai touches. Stunning views from the floor to ceiling windows and the marble bathroom is fit for a king. Communal spaces are equally decadent, with a European inspired pool area and refined dining and bar options like the classic Decanter wine bar. Handily located with direct access from Ratchadamri Sky Train station, the hotel is close to both Siam and Silom areas.
The Bangkok hotel with arguably the best view in town, Lebua at State Tower is a 67 storey skyscraper close to the Chao Phraya River and the BTS line at Saphan Taksin. The ornate exterior of the hotel hints at the luxury to be found inside, with an amazing rooftop bar and restaurant, attractive swimming pool and sundeck, and the requisite business centre and fitness centre befitting of a five-star hotel. Guestrooms are a muted, masculine mix of wooden flooring, cream and bronze with floor-to-ceiling windows and balcony in each of the 557 guestrooms of this all-suite hotel.
It's location behind Siam Paragon Mall makes it a fantastic choice for those who want to indulge in some retail therapy, but once you step inside you might not want to leave this majestic five star hotel. All rooms offer a beautiful view of the gardens and are lined with cream silk and embellished with beautifully decorated wall panels. The chunky tub in the marble bathroom was custom- designed, and there is also a separate shower. For something special, the cabana rooms offer direct access to the large swimming pool.
BEST BOUTIQUE HOTELS
1 HANSAR BANGKOK HOTEL, 2 HOTEL MUSE BANGKOK, 3 PRAYA PALAZZO HOTEL,
SIAM CHIDLOM-PLOENCHIT RIVERSIDE
Both the suites and bathrooms are extremely spacious at Hansar, using green and yellow tones in the decor to bring a natural feel to the rooms. Extra touches like a free mini-bar, in-room massage service and an impressive 24 hour gym help this five star hotel shine, and the service is international standard. Swim amongst Bangkok's skyscrapers, savour delicious French cuisine at Eve restaurant or enjoy a cocktail with a view at Zest. Less than a minute's walk from the BTS at Ratchadamri, the location is ideal for travelling around Bangkok.
Sophisticated and charming, walking into the hotel feels like entering a member's club from Victorian Britain, original vintage posters and paintings decorate public spaces, inspired by the Thai King's early 20th century travels. Every room comes with Wi-Fi, iPod dock and flat-screen televisions as standard. Richly decorated in dark wooden panelling, along with a muted colour palate, the king-size or twin beds are comfortable and decked out in the softest monogrammed sheets. Head up to the Speakeasy bar on the roof for some prohibition inspired cocktails.
Lovingly restored, this beautiful mansion by the river has retained its vintage feel whilst still providing the modern conveniences required by today's savvy travelers. You may feel a million miles from Bangkok, but the hotel is only a minute's boat ride from Pra Athit and Bangkok's main historical sites. The rooms are decorated in the style of Rama V with period furniture, and you can enjoy breakfast on the terrace that overlooks the Chao Praya River. The lava tiled jade pool is surrounded by a manicured garden.
BEST BUDGET HOTELS
1 SUK11HOSTEL,SUKHUMVIT 2 RAMBUTTRIVILLAGEINN,KHAO 3 IMMFUSIONSUKHUMVIT
To stay in such a brilliant location would usually cost a pretty penny, but Suk 11 is on a small side street just off one of Bangkok's best party streets, perfect if you want to spend your money on enjoying Bangkok rather than a room in which you might not even be spending much time. The hostel is quirky, a maze of wooden corridors that belong in a Tim Burton movie. Rooms are simple and clean with air-conditioning and a hot shower.
Looking for a great bargain in Khao San area that means you don't have to give up all your modern conveniences? Rambuttri Village Inn has a great location only a few minutes' walk from the buzz of Khao San, but far enough away from the party that it won't keep you awake. All rooms come with air-conditioning, satellite television, hot showers and comfortable beds. The highlight has to be the rooftop pool, ideal for lazy days after big nights out.
This Moroccan styled, 168 room hotel has touches of Aladdin's cave and has simple, clean and tidy rooms, perfect for those who want to stay somewhere on a budget without losing facilities. The location isn't exactly central, but the Sky Train is five minutes away (15 minute journey to central Bangkok) and it's an easy taxi ride if you are planning to explore other parts of the city. All 168 rooms come with basic amenities including.
BEST SERVICED APARTMENTS
1 RADISSON SUITES BANGKOK 2 OAKS BANGKOK SATHORN 3 GRANDE CENTRE POINT
SUKHUMVIT

The warmly decorated rooms and suites make you feel completely at home, with a subtle Thai inspired décor and comfortable beds for a great night's sleep. Located on Sukhumvit 13, you are far enough from the city buzz that it won't disturb you but you can hop on the complimentary tuk tuk service that whisks you to the nearby BTS, MRT and shopping mall. The rooftop swimming pool is tiled a surprising, orange colour, and there are some excellent onsite eateries that will satisfy the entire family.
The spacious studio, one, and two bedroom units in Oaks Sathorn all feature cooking facilities, with their one bedroom guestrooms offering some of the best value for money to be found in Bangkok. Decor is plain but tasteful with cream tiles and lightwood creating an uncluttered feel. Facilities include a central swimming pool surrounded by frangipani trees, large and well equipped gym and on site spa. Chong Nonsi BTS Station is only a short walk from the hotel and to make things even easier, there is a hotel shuttle to drop guests off at the station in the most exotic of vehicles: a tuk-tuk!
Built above one of the most interesting shopping malls in Bangkok (Terminal 21), Grande Centre Point Hotel Terminal 21 makes the transition from shop to hotel the simple matter of a few steps. Guestrooms all feature full-length windows, free Wi-Fi and a large LCD TV, and front-facing rooms get the beautiful view of Benjakitti Park. The swimming pool is one of the nicest in Bangkok, with unique activities on offer to guests such as complimentary use of the karaoke room, a tennis court and a putting green. With both the BTS skytrain and MRT subway lines on its doorstep.
Bangkok overview

Jim Thompson House, Bangkok, Thailiand
Get colonial at the Jim Thompson House© Heloise Bergman
One of the world's most vibrant and visited cities, Thailand's capital has long been established as a heritage site and exotic playground. Bangkok is now also making a name for itself as a chic destination for shopping, dining, clubbing, spas and hip local designs, as showcased by places like the Thailand Creative & Design Centre (TCDC).
There are an enormous amount of things to do in Bangkok, from exploring embellished temples and the lanes of multi-ethnic neighbourhoods to sampling the legendary Bangkok street food and booking a table at Asia's top-ranked restaurant, Nahm. Bangkok has always woven modernity and tradition into a truly distinctive hybrid, whether it's in the wacky architecture, the water-logged sacred rites of the Songkran festival or the converted teak house lifestyle pioneered at the Jim Thompson House. Now cosmopolitan taste is re-colonising historic areas, with boutique hotels dotting the old town, cool galleries popping up in Chinatown and new visitor-friendly parks and markets along the river, like the Asiatique attraction in the converted docklands.
Despite Thailand's recent political protests and coup, tourists have remained safe but foreigners risk serious trouble for commenting on royalty, military or politics, even online. Bangkokians take the strife in their stride and continue to pursue the good life.
Sights and attractions in Bangkok
Wat Baan Nam Peung Floating Market
Shop in style at the Floating Market© Heloise Bergman
Whether it's temples, palaces, shrines, landmarks or village-like communities, Bangkok's best sightseeing is focused mostly within the canal-ringed old town, the leafy Dusit district, Chinatown's alleyways and along both banks of the rapidly redeveloping Chao Phraya.
A glimpse of Thailand's disappearing water culture, Wat Baan Nam Peung Floating Market (held on weekends) is also a focus for plantation cycle tours in Bang Kra Jao, a vast green lung opposite Bangkok's working port. Among new riverside attractions, Asiatique features restaurants, a Ferris wheel, a night market in historic warehouses, the Calypso Cabaret ladyboy show and the Joe Louis Thai Puppet Theatre – a typically eclectic Bangkok mixture.
The ever-sparkling Grand Palace now hosts the sumptuous Queen Sirikit Museum of Textiles. Hi-tech interactive displays explain Bangkok's ethnic diversity at MuseumSiam and the impact of the Sino-Thai culture is revealed at the Chinatown Heritage Centre – which is installed beneath the world's biggest gold Buddha at Wat Trimit. Bangkok's greatest draw is arguably shopping, but amid the malls at Ratchaprasong intersection, devotees throng to several auspicious Hindu shrines.
Sights and attractions details
Ban Nam Peung Floating Market Wat Ban Nam Pueng, Thanon Phetchachueng, Bang Kra Jao. +66 2819 6762. 7am-3pm Sat-Sun.
Asiatique 2194 Thanon Charoenkrung. +66 2108 4488.
Queen Sirikit Museum of Textiles Grand Palace, Thanon Na Phra Lan. +66 2222 8181.
MuseumSiam Thanon Sanam Chai. +66 2357 3999.
Chinatown Heritage Centre Wat Trimit, 661 Thanon Charoen Krung. +66 2225 9775.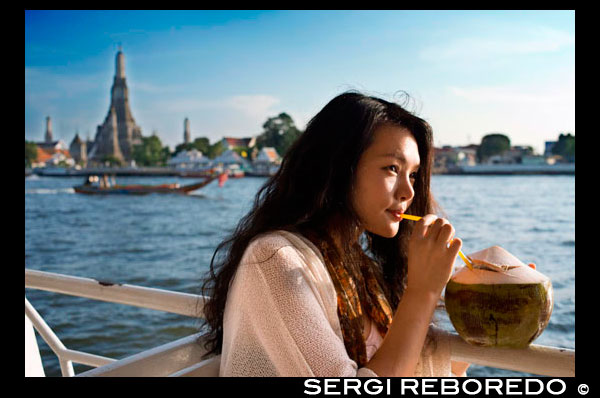 15 fun things to do in Bangkok
First lucky strike was that despite an otherwise international team of bloggers, my buddy Marlen who blogs for Ignant was also invited, so together we had a pretty good time going for sunrise swims in the giant pool of the Dusit Thani Hua Hin Hotel, spending a lifetime haggling with cabdrivers for semi-fair prices, shopping clothes on Bangkok street-markets and eating in some really incredible restaurants.
For more tips for accommodation visit our Yonderbox Stay in Bangkok.
Now I must admit, it seems that every time I do go to Thailand something crazy just happened or is still in the process of happening. The first time I went just shortly after the Tsunami hit, the next time I was there during the insane floods of fall 2011 and this time the long-term demonstrations as part of the current political crisis were in full swing. While I have heard a few comments about people cancelling or postponing their Thailand trip due to those unrests, I can assure you that in the 4 days we spent in Bangkok we noticed none of that. We were merely informed that cabdrivers had to take detours to get from the center of the city to popular backpacker mekka Khao San Road, but we didn't even deal with that by simply taking the boat ferry. More fun anyway. I guess what I'm saying is, if you're considering a trip to Bangkok or Thailand, don't let political or weather conditions curb your enthusiasm.
After a total of about 8 trips and at least 2 full months spent in the Thai capitol I feel quite entitled to give you a quick low-down on what the city is all about and what should definitely make it on your to-do list while there. Most to-do lists for Bangkok one finds on the web are all about temples and theatres, here's a bit more relaxed attitude to what not to miss while in one of the world's most exciting metropolis.
1. Try all the street food your stomach can fit. Yes, even the insects, you only live once. But whatever you do, don't mis out on sticky rice (khao niaw), it's my favorite.
2. Take tuk-tuks, they're great fun. Stay away from the ones that are waiting outside touristy spots as they might try to scam you. Always opt for tuk tuks you hail off the street. For longer journeys (air-conditioned) taxis are best – in polluted Bangkok your lungs will thank you. Always negotiate prices first or insist on the meter.
3. Shop til you drop. There might be no other place on earth with this many malls, markets and shops to buy from. And it seems there is something for everyone, except of course those taller than 5'5.
4. Go for a ride on the river ferry, because you can't beat spending 30cents on a cruise.
5. On sundays go to Chatuchak market, the world's largest weekend market. Seeing it all in one day is a challenge so come early, take breaks, bring cash. This is a prime spot for vintage shopping as many marketeers import their vintage clothing from Japan. This is especially awesome for petite girls, if you're tall, buy some presents for your friends back home.
6. Splurge and treat yourself to dinner at Vertigo, the restaurant on top of the Banyan Tree hotel. Reservations are necessary as this place is seriously popular.
7. Want the views but can't spare the cash for the food? Grab a drink at Sky Bar atop the State Tower. Or at any of these great roof top bars.
8. Look out for nightmarkets. Khao San is the obvious choice and probably best at catering to backpackers but my favorite is actually Siam night market, starting at 6 every evening, located right by Siam Station.
9. Ride the sky train, but never during rush hour.
10. Get a foot massage. Or a Thai massage. Or any massage, because they're usually cheap and awesome and easy to come by. My personal favorite are the footrubs on and around Khao San Road. Enjoyed at nighttime, smoothie in hand, this is a top spot for people watching while getting the full spa-treatment.
11. If on a budget stay at a hotel in the Khao San Road area, but never directly on Khao San (far too loud). I like the Wild Orchid Villa (cool balcony showers!)
12. Let yourself get lost. Wander the streets for ages, sit inside a public bus and let it take you to somewhere new. Bangkok is so easy to live adventures in, take advantage.
13. Relax hard. For a busy city like this one it's remarkable how easy it can be to come down for a few days. The Khao San area is light in traffic and pedestrian friendly. Grab a seat at one of the guest house restaurants along Chana Songkhram and watch a movie while slurping your 3rd banana milkshake of the day or order some pancakes. My favorite spot for this is New My House Guest House. Then smile at the fact that this set you back a mere dollar or two.
14. With all the budgeting and cheapness, don't miss out on one or 2 nights at a fancy hotel of your choice. The Kempinski is a good one in a great and central location. Great breakfast here, too!
15. Get out of town. One of the beauties of Bangkok is that the nearest beach is only a couple of hours drive away with Hua Hin being your easiest option to reach. We stayed at the Dusit Thani Hua Hin, which was beautiful and offered great food at any time of day. Hus Hin itself is a bit slow during the day but the nightmarket here is awesome. A perfect little spot for a weekend away.
Last but not least, it's important not to let the 6.3 million people who call Bangkok their home get to you. Yes, it's a big city, there is smog and traffic and it can sometimes unnerve you if you let it. But just like most other large cities there is beauty in the hustle and bustle and it never gets boring. Always a new place to discover, a new flavor to taste, a new experience to live. Come here with an open heart and an open mind and just like many others before you, you will fall for this city.
I'll leave you with a few more impressions of Bangkok, city of roof-top bars, spa-treatments, night-markets, street food, traffic jams, skyscrapers, river boats and so much more.
Bangkok by Day
If it's your first time in the city, head down to the banks of the Chao Phraya River and be wowed by the Grand Palace and Wat Pra Kaew (Temple of the Emerald Buddha).
This royal complex is still home to the king of Thailand and the temple is the most important in the country. The palace complex is roughly rectangular and has a combined area of 54 acres, surrounded by four walls. It's at the heart of Rattanakosin Island in the Phra Nakhon District.
Nearby, you'll find the former house of Thailand's most famous U.S. expat, Jim Thompson. It's now a museum and restaurant; the perfect, air-conditioned retreat serving probably the coldest beer I've ever had and good, authentic Thai food.
Originally from Delaware, Thompson fought in WWII and spent time in France, Italy and Asia. When the war ended, he saw a travel boom coming and helped reorganize the Orient Hotel (famous guests include Noel Coward and Charlie Chaplin). He pioneered the country's silk industry and became wealthy. Then, one day in 1967, on a jungle walk in the country's Cameron Highlands, he disappeared.
The house is a complex of six traditional Thai-style houses, teak structures brought here from various parts of Thailand. Although Thompson's house is a major draw, I think it's the mystery of Jim Thompson's disappearance over 40 years ago that still attracts tourists to this tranquil place. You'll find it at Rama 1 Road in Thanon.
Snaking its way through the city, the Chao Phraya River is best appreciated by boat. Catch the Chao Phraya Express boat that travels up and down the river stopping at strategic locations. It costs just 43 cents.
Long-tail boats, smaller, stream-lined versions of the Express, with their engine mounted on an inboard turret-like pole are zippy and designed to carry passengers on a river quickly. They're also available for charter along the murky canals, or klongs, that flow into the main river.
Totally chaotic, these canals are filled with small, flat boats jockeying for position, expertly paddled by mature ladies ready to stop and bargain at a moment's notice. It's colorful, noisy, totally touristy, but great fun. Keep in mind that you have to get up at 6 a.m. to really appreciate it.
Bangkok by Night
Bangkok never sleeps, so you can cram in a lot during a short visit. Beer costs just 90 cents a bottle in Bangkok and you're spoiled for choice of drinking venues.
The Patpong District is as popular as ever, and a few of the old favorite bars and bistros, like the tiny, French Le Bouchon Bistro, on Soi 2, are great value. While it's still home to dubious go-go bars, it's a safe area to wander around and great entertainment.
The night markets in Patpong are lively, exciting places to be and there also where you'll find an increasing number of fashionable bars and restaurants. Try Mizu's Kitchen on Soi 1, a Japanese eatery open since 1954. The steaks are to-die-for and at $7, they're great value.
Several swanky sky bars have opened recently too, including the French-themed D'Sens Bar & Restaurant in Dusit Thani, the Moroccan-themed rooftop Gazebo in Khao San Road, and my favorite, The Nest, an airy alfresco hangout in downtown Sukhumvit, where you can mix with the locals and have a Cuban cigar.
There's also the Vertigo & Moon Bar at the Banyan Tree hotel. It's a stylish sophisticated bar and their signature Vertigo Sunset cocktail alone warrants a visit (costs $6).
Bangkok is home to Thai Boxing, or Muay Thai, a martial art that uses all of the body's natural weapons to create a devastating fighting style. When combined with traditional Thai music, played throughout the bout, it makes for exciting entertainment.
You can see a match in either of the two main venues. Ratchadamnoen Stadium on Ratchadamnoen Nok Road has bouts every Monday and Wednesday starting at 6 p.m., Thursday at 5 p.m. and 9 p.m., and Sunday at 4 p.m. and 8 p.m. Lumpini Stadium, on Rama IV Road, has events on Tuesday and Friday starting at 4 p.m. and 8 p.m. and Saturday starting at 5 p.m.
Bangkok Dining
Street food is cheap, tasty and delicious and you shouldn't shy away from it. Half-a-dozen chicken sate kebabs cost 50 cents and you'll be wondering why you didn't order more. If you get locked into the Bangkok shopping-mall circuit, food courts in most serve delicious local and popular international dishes, with many using a pre-paid voucher system. Siam Paragon Shopping Center has numerous enticing restaurants and an upmarket food court that wouldn't be out of place in New York. The MBK building located on the other side of the street has a cheaper selection of local dishes.
One of Bangkok's best-kept secrets is called River Tree House, and it's a lovely adventure just getting there. It's in Nonthaburi. Catch an express boat there, it's the last stop on the line. It takes around 40 minutes and it's worth doing just to witness the Thai people going about their daily lives on the river.
Once at Nonthaburi take a taxi and finally a rickshaw to River Tree House. (The rickshaw is for fun and covers only the last 200 feet up a tree-lined lane.)
The restaurant is nestled on the banks of the river with the sun setting in front of you. You'll know you are in the right place... it's packed with locals.
Bangkok Hotels
There's no shortage of hotel rooms in Bangkok, especially after the recent political upheaval, and most have prices to entice visitors back. The Grande Centre Point Hotel & Residence in Ratchadamri offers exceptional value with its executive rooms reduced from $300 a night to $80. It's central to everything, and there are two sky-train stations within 200 feet of the hotel and four impressive shopping malls within walking distance.
The Leuba at State Tower Hotel, a five-star hotel in a great mid-town river location, is offering a river-view suite, which normally costs $554 a night, for just $167. It's within walking distance of six major shopping centers and just two minutes' walk to the Chao Phraya River.
Bangkok Shopping
Like all big cities Bangkok has plenty of shopping, but there's a difference...here it's cheap. And even if you're not buying, the city's markets are like treasure troves.
I recommend Chatuchak Market, also known as the weekend market or JJ Market. Young designers operate outlets among the 8,000 or so stalls, and it's worth seeking them out. If the heat gets to you, take time out to rest in the hawker stalls and trendy cafés.
One word of advice: if you see something that you like, buy it there and then, because the odds on you finding that stall again are small!
Back in the city you can shop in a dizzying selection of modern malls. The best bargains to be had are in MBK Building the Siam Ratchaprasong area. Gayson Plaza just across the road is home to many of the world's premier fashion labels.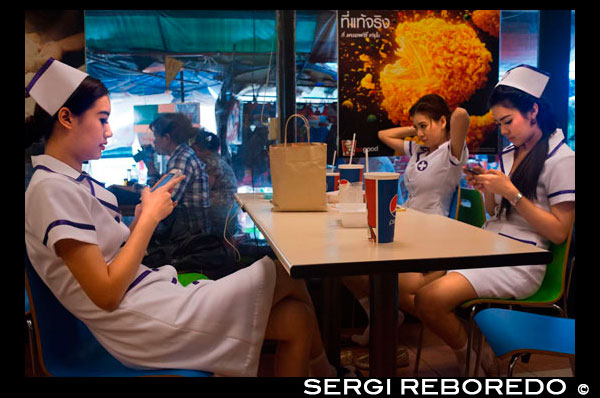 Why Visit Bangkok?
Golden shimmering palaces and temples, solid teakwood mansions, museums of everything imaginable, shopping that never ends, and a smorgasbord of delightful things to eat are all top reasons to include Bangkok on your travel bucket list.
Things to Do in Bangkok
Grand Palace / Wat Phra Kaew (Temple of Emerald Buddha)
Without doubt, the Grand Palace and Wat Phra Kaew (on the same compound), are the most cherished and well known attractions in all of Bangkok. The golden palace and temple is a magical display of Thai craftsmanship, and a must see for any first time visitor to the city.
Wat Pho (Reclining Buddha)
Wat Pho is home of the giant golden reclining Buddha, and is also the location where the original Thai massage was created. It's a seriously impressive sight you don't want to miss!
Wat Arun (Temple of the Rising Sun)
One of my personal favorite temples in Bangkok is Wat Arun, located along the Chao Phraya River. You can climb two flights of steps up the main stupa for a fantastic view of the river.
things to do in bangkok
Wat Arun
Vimanmek Mansion
Once the palace of the royal Thai family, the Vimanmek Mansion is the world's largest golden teakwood structure, and is now set aside as a museum. The mansion itself, and the collection of precious artifacts inside it, are a glimpse into the Thai royal family.
Chatuchak Market (video)
With both permanent stores and makeshift stalls, the Chatuchak weekend market includes around 15,000 vendors. Nearly everything you could possibly desire is available somewhere within the shopping sprawl.
Khlong Toey Market (video)
Local fresh food markets are one of the best places to observe daily life in any city; For Bangkok, it's the wild and hectic, constantly energized Khlong Toey Market.
Nearly everyone who owns a restaurant or street stall in central Bangkok does their shopping at this market. For a less busy and cleaner option try Or Tor Kor Market, located across the street from Chatuchak Market.
Best Neighborhoods to Explore?
Yaowarat (Chinatown)
Busy, hectic, packed with stores, and overflowing with food, is Bangkok's Chinatown. During the day you'll discover markets selling everything from food to trinkets, and beginning in the evening, you can dine at the countless street food stalls that set up along Yaowarat Road.
Siam / Pratunam
Siam and Pratunam, just a short distance from each other, are the most well known shopping districts in Bangkok. Along with mega malls, you'll find plenty of street shopping, entertainment, hotels, and restaurants.
Khao San Road
Nearly all backpackers that visit Thailand eventually head to Khao San Road, a street that's lined with hostels, bars, nightclubs, food, clothing stalls, and loads of travelers.
It's not everyone's favorite area of town, but if you're searching for budget accommodation and nightlife, Khao San Road is a popular option.
Where to Eat in Bangkok?
Sukhumvit Soi 38 (Budget)
There are plenty of top Bangkok street food streets, and one of them is Sukhumvit Soi 38. Every night, street food stalls set up on both sides of the road serving delicious things like pad Thai, soup noodles, stir fried dishes, and Thai salads.
Larb Bpet Yasothon (Budget)
Situated on a sidewalk opposite a cemetery, we've nicknamed this popular Silom street restaurant "graveyard dining." Attracting a large local crowd each evening, their entire menu is superb, especially their green papaya salad and grilled chicken wings.
Boat Noodles (Budget)
Boat noodles are one of the most beloved soup noodle dishes in Bangkok. They were previously served directly from boat vendors floating in canals, but nowadays the most popular place for boat noodles is next to the canal at Victory Monument. The noodles are porky, rich, and always flavorful.
Sabai Jai Gai Yang (Mid)
This long standing Thai restaurant, that's serves nearly all genres of Thai cuisine, is a great place to meet friends or to share a meal with your family. The grilled chicken is well known, as is their tom yum goong soup.
The Local (Upmarket)
A combination of Royal Thai recipes and home comfort foods is what the chef aims to deliver at The Local. The marvelous array of salads, curries, and stir fried dishes are not only perfectly balanced, but they are elaborately presented.
things to do in bangkok
Thai feast at Larb Bpet Yasothon
You Can't Visit Without Eating ______?
Everything you see!
Ok, I know that's not completely possible, but the world of Thai food is so diverse and so incredibly exciting to the taste buds, that whatever you come across should be eaten.
That being said, here are a few things you shouldn't miss.
Som Tam
This is the famous Thai green papaya salad which includes shredded green papaya, tomatoes, dried shrimp, garlic, and chillies. The ingredients are pounded together in a mortar and pestle and dressed in palm sugar, fish sauce, and lots of lime juice.
Khao Neow Moo Ping
There's no better snack on the streets of Bangkok than a few skewers of freshly grilled pork paired with a bag full of sticky rice!
Boat Noodles
As mentioned above, they are small bowls of rice noodles blanched with water morning glory, and smothered in rich pork broth.
Pad Kra Pao
Pad kra pao, the most commonly available stir fried dish in Bangkok, is a choice of meat or seafood fried with garlic, chillies, and the all important holy basil. Placed over rice, with a fried egg on the side, this is one of the classic Thai street food dishes.
For more deliciousness, check out this Eating Thai Food Guide
things to do in bangkok
Pad Kra Pao Goong Kai Dao (Shirmp w/ Holy Basil and a Fried Egg)
Where to Drink in Bangkok?
Cheap Charlie's
Located just down Sukhumvit Soi 11, Cheap Charlie's is one of the city's most popular dive bars. It's a perfect place to grab a drink and hang out.
Saxophone
As one of the best live music venues in Bangkok, Saxophone Pub is a fun place to listen to great music and relax. They serve a variety of beverages and also have a full menu of meals.
The Londoner
The Londoner is a favorite Bangkok British style brewery that offers both food and drink in a classic pub environment.
Coffee Society
Open 24 hours, you can get coffee and WiFi around the clock at this popular Silom cafe.
Where to Stay in Bangkok?
New Road Guest House (Budget)
New Road is a friendly budget guest house located on Charoen Krung Road and just a short walk from the Chao Phraya River.
Lub d Siam Square (Mid)
Across the street from MBK shopping mall and right below the National Stadium BTS station, Lub d Siam Square is one of the most conveniently located hostels in the city. It's a chic hostel with super comfortable beds and incredible showers.
Bangkok Loft Inn (Mid)
This hotel offers fantastic value for price, and makes a perfect place to stay for both families and couples. Located near the BTS Skytrain and very close to the river, you'll have easy access to Bangkok's top attractions.
Hansar (High)
If you're looking for the ultimate in 5 star luxury, be sure to check out Hansar. I've personally never stayed there, but I have heard from friends that it is Bangkok accommodation at its finest.
Best Markets and Shopping in Bangkok?
Siam
Shopping is one of the most popular reasons people come to Bangkok, and there's no better place to get everything you need than at Siam. Including Siam Discovery, Siam Square, Siam Paragon, Central World, and the giant MBK, you'll never run out of shopping choices.
things to do in bangkok
MBK
Pratunam (video)
Just behind Central World, and a short distance from Siam, is Pratunam market. If you want the best deals on locally made wholesale clothes and fashion accessories, go to Pratunam.
Chatuchak
Open Saturday and Sunday, Chatuchak weekend market, is one of the top shopping destinations in Bangkok. Wind through the narrow alleys and you'll find everything from clothes to puppies.
Bangkok is a shopper's paradise, and for more options, check out these 6 most popular shopping markets.
Major Events and Festivals in Bangkok?
Songkran Festival
Songkran Festival, which officially takes place from April 13 – 15, is a joyous celebration of ushering in the Thai new year, spending time with family, and playing with water (as Thais refer to it as).
A light sprinkle of water over the head, which was previously a symbol of a fresh clean start, has now turned into an all out water fight throughout the entire country.
During Songkran, stepping outside is like stepping into a swimming pool – you will undoubtedly get splashed. The entire country is ready to have fun, so it's a perfect time to visit Thailand and celebrate with everyone.
things to do in bangkok
Songkran
Chinese New Year
The Chinese have long been intertwined into Thailand and Bangkok, so one of the most celebrated holidays of the year is Chinese New Year. Parades, food, and family get togethers are all a part of the occasion.
Thailand Vegetarian Festival
After falling ill in Thailand, a group of Chinese opera performers decided to go on a strict vegetarian diet. Today, the vegetarian festival is an annual event and attracts many people from around the world.
You'll find plenty of vegan street stalls throughout Bangkok, especially around Chinatown.
Are you vegetarian? Then check out this vegetarian Thai food guide.
Getting Around Bangkok?
Bangkok literally offers every form of transportation available: train, subway, bus, taxi, canal boat, river boat, motorbike, tuk tuk, and even some man powered rickshaws in certain areas.
Around the central part of Bangkok, the BTS Skytrain (elevated train) and the MRT Subway, are the two most convenient and easy ways to get around. They are new, clean, efficient, and best of all, you don't have to wait in traffic.
Unfortunately, while the plan is to expand the train lines, as of now they don't cover the entire city, so it's necessary to take other forms of transportation as well.
Public river boats are also extremely convenient. Throughout the day, ferry boats usher passengers up and down Bangkok's central Chao Phraya River, stopping at a series of piers along the way.
Since the area around the river is the old section of Bangkok, many of the most notable attractions are along the banks of the river.
Taxis, tuk tuks, and motorbikes, are all widely available, affordable, and can get you anywhere in the city.
things to do in bangkok
Motorbikes during rush hour in Bangkok
Is Bangkok WiFi friendly?
Yes, and more and more so all the time. Now, just about all Bangkok accommodation includes WiFi as well as many indoor restaurants, cafe's, and shopping malls.
Terminal 21
Terminal 21 is a new and exciting shopping mall that happens to have a nice food court and decent WiFi.
Third Place
Third Place is a Bangkok workspace club where you can pay 150 THB for a one day pass, and then use their awesome facility, and WiFi for the entire day.
Best Time of Year to Visit Bangkok?
April
April is the most exciting time of the year in Bangkok and all of Thailand. Though it's the hottest time of the year, it's when the famous water festival (which is actually Thai New Years), known as Songkran, takes place.
November / December / January
By relative standards, this period is Bangkok's cold season, making for a less sweaty and more pleasant visit. December is also one of the busiest tourist seasons, so many of the most well known attractions are packed.
So visiting Bangkok in November or January, when the weather is cooler, but there's still not as many visitors as in December, makes those months a great time to visit.
Favorite Side trip Away from Bangkok City?
Fruit Farm
One thing I can't get enough of in Thailand is the abundance of fresh tropical fruit. I eat a lot of fruit! During the main fruit season, between April and July, I like to go to Suan Supatra Land fruit plantation. Not only can you see the fruit trees and see how each fruit grows, but you can eat as much fruit as you want!
thngs to do in bangkok
Suan Supatra Land
Khlong Lat Mayom and Bang Nam Pheung Floating Markets
Many people that visit Bangkok head straight for the famous Damnoen Saduak floating market (which is about 1.5 hours outside of Bangkok) under the guidance of all the tour guides and guidebooks. Many don't realize that within Bangkok there are also quite a few floating markets.
My two favorites are Khlong Lat Mayom and Bang Nam Pheung, both accessible by public transportation. They make a great place to wander, shop, and sample some tasty food.
Ayuthaya
One of the most well known day trips from Bangkok is to Ayutthaya, an ancient capital of the Siamese kingdom. Visiting temples, ruins, shrines, and forts are all attractions the city has to offer.
Getting There and Away?
Flights
Bangkok is a major Southeast Asian hub, so it's never difficult to find a flight into the city.
There are hundreds of airlines and carriers that land at Bangkok's Suvarnabhumi International Airport. I've flown everything from Korean Air to Emirates to China Airlines into Bangkok before.
Air Asia
If coming from other destinations in Southeast Asia, or even a few cities in Australia, Air Asia provides good deals on budget flights. Buses and trains are great, but sometimes if you get a good deal on an Air Asia flight it can save a lot of time, effort, and prices can be very reasonable.
Air Asia operates from Bangkok's Don Mueang International Airport in the north of the city.
Buses
Getting to and from Bangkok by bus is probably the best option after budget flights. There are a number of different classes from sit down seats to luxurious armchairs that lean back into beds.
Mo Chit is Bangkok's main bus terminal for northern destinations, while most buses bound for the south of the county leave from Sai Tai Mai. To get to some of the major destinations that are close to Bangkok, like Pattaya and Hua Hin, head to the Ekkamai Bus Terminal.
Railroad
The railroad system is alright, but I wouldn't call it overly extensive. The Bangkok to Chiang Mai route is a good option and there's also a railroad line heading south.
Best "insiders" tip?
Visit Markets
Local markets are the best places in Bangkok for shopping, people watching, and food. I personally like to go to a market known as Wang Lang Market, a local open air shopping area that includes an outrageous supply of street food and snacks.
Erawan Museum
This giant 3 headed elephant, which doubles as a temple and private museum, is actually located just outside of Bangkok, in the province of Samut Prakan. But with the extension of the BTS Skytrain (all the way to Bearing station), it's easy to get there, and it's a seriously impressive attraction.
things to do in bangkok
Erawan Museum
Eat Durian
That's right, the spiky, notoriously pungent fruit is what I consider one of the top attractions in Bangkok. Give it a try, you might love it (like I do)!
Thai street food stalls just outside Central World Shopping Center
Thai street food stalls just outside Central World Shopping Center
I love Bangkok because ______?
You never have to walk more than a few steps before you stumble into something that looks delicious!
It really is the incredible mixture of food that made me initially fall in love with Bangkok.
In busy areas of town, every square meter is home to a smiling vendor ready and happy to serve you a plate of spicy green papaya salad or a freshly stir fried plate of chicken with basil. Bangkok is a never ending buffet.
Along with food, I absolutely love the way Bangkok is a very modern functioning city, yet at the same time it remains quite traditional and true to its rich cultural heritage. It's possible to be surrounded by skyscrapers one moment and then be in a peaceful traditional community the next.
Lastly, I love Bangkok simply because everything is so extraordinarily convenient. Hungry, thirsty, sick, or have any other need whatsoever? You can literally walk outside your door and get whatever it is you need.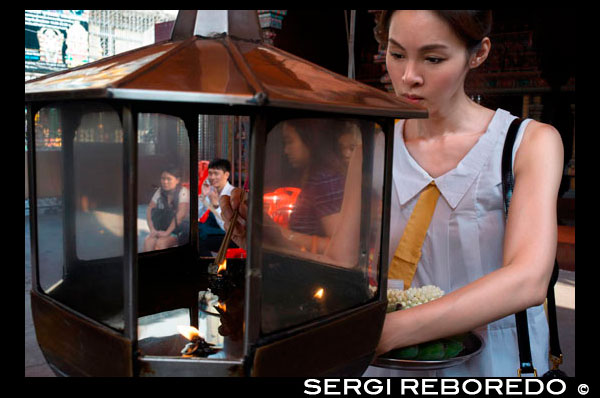 10 COOL THINGS TO DO IN BANGKOK
Bangkok … a name that conjures up images of the exotic East, of shimmering golden temples, of bustling street markets, of tuk-tuks zooming through the streets, of sights, smells and sounds. A name that was immortalised in the 1980s by the song One Night in Bangkok. But Bangkok deserves much more than one night, and here are ten reasons why:
1. A city by any other name
Known as Krung Thep (City of Angels) to locals, the full name of Bangkok is one of the world's longest place names: Krung Thep Mahanakhon Amon Rattanakosin Mahinthara Yuthaya Mahadilok Phop Noppharat Ratchathani Burirom Udomratchaniwet Mahasathan Amon Phiman Awatan Sathit Sakkathattiya Witsanukam Prasit. Wondering what it means? The full name can be translated as "the city of angels, the great city, the eternal jewel city, the impregnable city of God Indra, the grand capital of the world endowed with nine precious gems, the happy city, abounding in an enormous Royal Palace that resembles the heavenly abode where reigns the reincarnated God, a city given by Indra and built by Vishnukarn."
2. Shop 'til you drop
Think more than 5,000 stalls spread over 86.5 acres (35 hectares) is doable? Then head to Chatuchak Weekend Market, a roller-coaster shopping experience where one can find practically anything. From vintage clothing to beautiful antique silks, from cheap and cheerful T-shirts to the latest up-and-coming young Thai designer threads, and from oil paintings to puppies to antiques both faux and real, Chatuchak has something for everyone. One tip – if you see something you like, buy it immediately. The chances of ever find your way back to a specific stall are as slim as the labyrinthine narrow alleys.
Other great shopping experiences include the glittering, glamorous Gaysorn, Central World and Siam Paragon malls, all within a few minutes' walk of Four Seasons Hotel Bangkok. And Talad Rot Fai, also known as the Train Market, is one of the city's newest night markets, open on Saturdays and Sundays, and is located by rusting railways tracks on land owned by the State Railway of Thailand. Here retro-lovers can find vintage clothes, antiques, mid-century furniture and all sorts of other treasures laid out on the ground in front of old VW camper vans, or inside Rod's Antiques in the huge old railway warehouse. Grab a beer and a few sticks of satay from one of the food stalls, and dive in.
3. Jurassic Park
Join the locals for an early-morning jog or a spot of tai chi on a Sunday morning in Lumphini Park, and there will be more surprises in store than just the sheer number of people running around the carefully groomed pathways. Lumphini is Bangkok's very own Jurassic Park, home to a population of water monitor lizards. Water monitors can grow to around 10 feet (3 metres) in length, but most of the park's are a more conservative 3 to 4 feet long (about 1 metre). They like to swim in the cool waters of the ponds, or sunbathe on the lawns, and while they're not known to be particularly dangerous, they can still elicit a fright if encountered unexpectedly, and they do have a habit of looking one straight in the eye and licking their lips!
4. Street life
The streets of Bangkok are colourful, lively places, sometimes noisy and crowded, but always full of life. A stroll along the city's streets can lead to stalls of sarongs, dresses and Hawaiian shirts (especially popular around Songkran, or Thai New Year), false teeth sellers, ad-hoc bars sprouting up from nowhere in the late evening, and vendors selling anything from plants to sweeping brushes to delicious local iced Thai tea from the backs of handcarts.
And don't miss an opportunity to sample some of the city's famous street food. From steaming bowls of noodles to sticks of charcoal-grilled chicken and pork satay, from pad thai cooked in a wok over huge flames to the irresistible mango and sticky rice dessert, and from crispy scorpions to crickets and other bugs for the more adventurous, one need never go hungry in this city. A slightly off-the-beaten-track place for visitors to discover their own favourite dishes is Sukhumvit Soi 38, a small alley of street stalls leading off the main Sukhumvit Road near the Thong Lo BTS Skytrain station. Only open in the evenings, the stalls here stay open late to cater to the post-clubbing crowd. So if all that dancing in the clubs of Thong Lo makes your stomach rumble, this is the place to come.
5. Water, water everywhere
There aren't that many places in the world where it's acceptable to empty a bucket of water on a passerby, or take aim at a total stranger with a water pistol. But in April in Thailand, this is exactly what happens – and visitors are invited to join in the fun. Every April sees the arrival of Thai New Year, also known as the Songkran Water Festival. Celebrated from April 13 to 15, the festival embraces goodwill, love, compassion and thankfulness, using water as the means of expression. Originally a sign of respect, the traditional water pouring has evolved into good-natured country-wide water throwing. Locals and tourists alike roam the streets armed with buckets of water, or wait on the side of the road with water pistols to drench friends and strangers alike – all in the name of fun. A word of warning to visitors to the Kingdom of Thailand at this time: you will get wet, so try and remain cool (a good dousing with water usually helps) and join in this good-natured fun with a smile and sense of humour.
6. Escape to the islands
Bangkok is a big, bustling city, and that's what makes it exciting. But sometimes it's good to get away, and with some of the most beautiful tropical islands in the world right on the city's doorstep, escaping to an island paradise is quick and easy. Without jumping on a plane, perhaps the Bangkokians' favourite is Koh Samed, a beautiful island with white sand beaches, crystal-clear waters, and friendly people. Koh Samed (also sometimes written as Koh Samet) can be reached by car and boat from Bangkok in about two and a half hours. From the boat pier in Ban Phe, take either a local ferry (fun and cheap, but slow) or a chartered speedboat (fun and still quite cheap, but fast). The island is relatively small, but offers something for everyone. From the party beaches in the northeast to the quiet getaways in the south, just find a favourite beach, dip your toes in the water, and relax.
7. Shrines to Buddhism, and consumerism
The area directly surrounding Four Seasons Hotel Bangkok is the commercial heart of the city, with some of its swankiest shopping malls close at hand. It's also home to six of Bangkok's most popular shrines, making it a spiritual destination for local Thais and visitors alike. All six shrines are within a short walk from the Hotel, and offer guests great insight into the spiritual side of the city. As long as one is dressed correctly (no bare shoulders or shorts, and it's better to wear closed shoes), visitors are welcome to pay their respects at each of the shrines. The most popular is the Erawan Shrine, also known as San Phra Phrom, believed to bring good fortune. Stalls sell colourful flowers and offerings along the street outside, so join the locals and pay respects. And to gain that extra bit of merit, pay the traditional dancers at the shrine to perform a dance to accompany prayers.
8. Incredible, beautiful, spectacular flowers, available 24/7
It might not be feasible to take them home, but the 24-hour flower market, Pak Klong Talat, is a temptation nonetheless. It's open 24 hours a day, and is full of the heady scents of fresh jasmine and bitter marigolds, and the riotous colours of fresh orchids. The stalls that line the streets sell huge bundles of greenery; orchids in vibrant yellows, reds and magentas; enormous sprays of roses; and giant swathes of marigolds. Truckloads of lotus flowers are delivered throughout the day bundled up in their own leaves, and are sold at the side of the road at unbelievably cheap prices. Head into the covered alleyways and the immerse yourself in the fragrance of bags full of tiny jasmine blossoms, a scent never to be forgotten. Be sure to take a camera to capture it all, and if you simply can't resist making a purchase, Four Seasons will provide vases to decorate your hotel room.
9. I want to ride my bicycle
Bangkok may be well known for its traffic jams, but it's also an amazing place for a cycling tour. Whether pedalling through the old city and Chinatown, past ancient temples, billowing clouds of incense smoke, and crumbling colonial-style buildings, or heading over to the other side of the Chao Phraya river to see a different side of Bangkok, complete with canals, coconut palms and emerald green rice fields, this is a great way to see the sights at a slower pace. It's also a wonderful way to meet the locals, so be sure to try out a "Sawasdee" greeting and smile – this is the Land of Smiles, after all. The Hotel's Concierge can suggest reliable tour companies that can take you on a cycling safari of the lesser-known sights of this incredible city.
10. Adrenalin junkies
If the excitement of being in Bangkok itself isn't enough of an adrenalin kick, perhaps throwing oneself off a tree into the jungle canopy will do the trick. The Flight of the Gibbon zip-lining experience is a 90-minute drive from the city and located in the rainforests of Chonburi, home to giant squirrels, barking deer, hornbills and gibbons. The zip-line experience involves jumping off 24 different tree-top platforms and launching oneself through the trees to the next platform over a course of wires 3 kilometres (2 miles) long. Suitable for adventurers of any age, this is sure to be an unforgettable day out for anyone wanting to unleash their inner Tarzan.