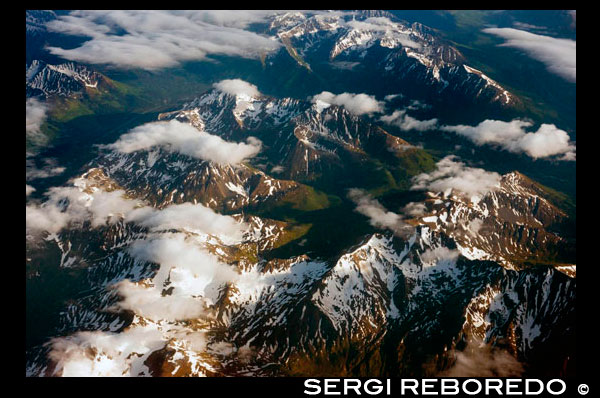 Click on the picture to see more photos.
Text and Photos: Sergi Reboredo
Originally inhabited by Ice Age nomads, the first European settlement was actually established by Russian whalers and fur traders in 1784, but for thousands of years before, scores of indigenous peoples occupied Alaska. Its rugged beauty, concentration of wildlife and glaciers, Native culture, and adventure recreation draw today's explorers. And with such a rich landscape of opportunity, this guide can only begin to give you the "tip of the iceberg."
State Name
The name "Alaska" was introduced in the Russian colonial period and originated from the Eskimo-Aleut language—the heritage language of the seafaring people living in the Aleutian, Pribilof, and Commander Islands.
State Motto
"North to the Future"—meant to describe Alaska as a "land of promise;" it was created by Juneau newsman Richard Peter and chosen during the 1967 Alaska Purchase Centennial.
State Symbols
Bird: Willow Ptarmigan Mineral: Gold
Tree: Sitka Spruce
Population
Fish: King Salmon Flower: Forget-Me-Not
Ranking 47th in the United States, the 2010 US census has Alaska's population at just over 710,000.
Language
English is the official language, but 5.2% of Alaskans speak one of 22 indigenous languages.
Statehood
In 1867, for only 2 cents per acre, Alaska was purchased from the Russian Empire. The gold rushes of the 1890's and several administrative changes passed before it was granted US territorial status in 1912. Alaska officially became the 49th and largest US state on January 3, 1959.
Industry
The largest industries are fishing and seafood—most of America's salmon, halibut, herring, and crab come from Alaska. Traveling 800 miles from Prudhoe Bay to Valdez, the Trans-Alaska Pipeline moves approximately 1.8 million barrels of oil per day, accounting for 25% of the oil produced in the US. Its most important revenue sources are oil and natural gas.
Southeast Alaska
A temperate rainforest shaped by massive glaciers over millions of years, the region reveals wildlife-rich fjords and spectacular scenery. The Tongass National Forest—the largest in the US—is 16.8 million acres and consumes the majority of Southeast Alaska (also known as the Alaska Panhandle). Other features include Glacier Bay National Park, Admiralty Island and Misty Fiords National Monument, a myriad of islands, and the north terminus of Alaska's Inside Passage.
Russian settlers left their legacy in churches and towering totem poles reflect the history of the local Tlingit, Haida, and Tsimshian Indians. For centuries these protected waterways have served as important travel corridors for Native Indians, explorers, and gold-rushers seeking their fortunes. Today there are still no roads connecting the towns of Southeast Alaska, and modern day residents still travel by water as their predecessors did.
JUNEAU
A place built on gold and originally named Harrisburg (until locals fell out favor with its namesake), it has served as Alaska's capital since 1906. Located on the Gastineau Channel, Juneau is surrounded by mountains, rivers, forests, and glaciers.
Easily explored by foot, this eclectic town reflects a mix of its prospector heritage and native culture influences with incredible scenery and small-town hospitality. A walk through town will give you a good dose of local color; some of Juneau's oldest establishments are pubs.
Local Interest
Alaskan Brewing Company – end a hike with a taste and a tour. Reigniting a tradition from the early 1700s to the Gold Rush, this sustainable local company creates award winning, handcrafted beers based on historical recipes and local ingredients.
Juneau Icefield – this big daddy is the fifth largest ice field in the northern hemisphere, at least 3,000 years old, has an estimated depth ranging from 800 to 4,500 feet, blankets over 1,500 square miles, and its stark landscape is home to over 40 valley glaciers and 100 smaller ones.
Mendenhall Glacier – known by the Tlingits as "the glacier behind the town," reached its maximum advance in the mid- 1700s. The Juneau Icefield Research Program reports it has receded over 1.75 miles since 1958 and continues to retreat about 100-150 feet each year. It extends from the Juneau Icefield to the aptly named Mendenhall Lake and River.
Mount Roberts Tramway – take a tram ride up the mountain for stunning views overlooking the city, the Roberts Nature Center, and trails leading further up to the summit or back down to Juneau's city center.
The Safari Endeavour HIGHLIGHTS

Juneau
Surrounded by the rich, green Tongass National Forest, and located on beautiful Gastineau Channel, Juneau is an important port and a popular tourist destination. Unique because it is the only state capital in the United States that is inaccessible by road, Juneau sits at sea level below the steep mountains that are home to the Juneau Icefield and the Mendenhall Glacier. Its temperate climate produces remarkable scenery with miles of hiking trails through woods and alpine meadows providing a glimpse of just how rugged the rainforest of Southeast Alaska is. Along with its delightful small town ambiance, Juneau has a number of art galleries, boutiques, historical sites, and museums.

Ford's Terror / Endicott Arm
Cliff-walled fjords sliced into the mountainous mainland are on tap today as you slowly slip into an area widely acclaimed as the most beautiful in Alaska. With more designated Wilderness Areas than any state in the nation, the finest include Endicott Arm and Ford's Terror - a pristine tidal inlet and fjord. Explore this majestic fjord by kayak or skiff, a unique opportunity indeed. View rugged ice-covered mountains gleaming high overhead and a glacier that actively calves into the ice-filled fjord of Endicott Arm.

Frederick Sound / Stephen's Passage
Spend the day exploring in Frederick Sound and Stephen's Passage - another excellent chance to view humpback whales and other marine wildlife. Pass by Five Fingers Lighthouse and watch for playful antics at a large sea lion haulout made from dozens of rocky islets. Later, cruise picturesque bays, where evergreen forests crowd the shores.

Chichagof Island / Baranof Island
With no binding agenda, today you'll cruise the waterfall coast of Chichagof Island. Marvel at the grand scenery of Alaska's wilderness as the crew expertly guides you through those "not in the guide book" places known only to the locals. This evening, perhaps tucking away in a waterfall-laced fjord, there'll be time for skiffing, beachcombing or treks ashore, and kayaking to look for sea otters and bears before calling it a day near Baranof Island.

Glacier Bay National Park
Accompanied by a National Park Ranger, over the two days in the park you'll travel nearly 60 miles cruising up-bay to the tidewater glaciers of Grand Pacific and Margerie, which frequently calve huge icebergs into the bay. If conditions permit, we'll lower the skiffs and weave among the icebergs that have fallen from the face of the glaciers.
Enjoy an evening at anchor, and mornings paddling your kayak in the quiet of this majestic wilderness. Here in the bay are puffins and sea lions, mountain goats and bears, moose, eagles, and scenery more spectacular than any place on earth. Glacier Bay is at its best when explored by small groups with unfettered time for treks and kayaking inside the bay and wilderness areas.

Icy Strait
Today's the ultimate day of exploration. Set your course for arguably the richest whale waters in Southeast Alaska. Keep watch for the telltale blow of the humpbacks as you scour the nutrient-rich waters in search of whales, porpoise, sea lions, and other wildlife. Join the Captain on the bridge or go on deck with your Expedition Leader. Late afternoon, we'll drop the skiffs and kayaks for closer inspection of the remote coastline with eyes set on shore for possible bear sightings.
ALASKA, the best links.
Department of Transportation The Best Travel Guide, The Mile Post, for all Visitors To Alaska Alaska Ferry System Schedules and Reservations The Alaska Railroad Anchorage Airport Alaska Marine Highway System Anton Anderson Memorial Tunnel to Whittier Road Conditions Alaska Climatology Alaska Weather Alaska Forecasts by the National Weather Sevice Alaska Car and RV Rentals with phone numbers

Alaska
For many people, Alaska really represents the final frontier. And in very many ways indeed it is. This website helps you decide just how far you want to go...
http://www.travelalaska.com/ →

Anchorage
There's a special mystique to Alaska. The name conjures up adventure, raw natural beauty -- glaciers, mountains and seas, unmatched the world around -- fascinating wildlife, a unique cultural heritage, and independent, pioneering people. As you plan your next adventure or your next convention or business meeting, it's time to consider Alaska. As you venture north, Anchorage will provide the ideal gateway to most that Alaska offers.
Clausen Museum
Established in 1968, the Clausen Museum is dedicated to preserving the history and telling the story of those who have lived and worked in Petersburg and the surrounding area.
http://www.clausenmuseum.net/ →

Haines
Tucked in the forests of southeast Alaska, on the shores of America's longest fjord, is the small fishing village of Haines. Surrounded by spectacular peaks, glaciers, rivers and lakes that are home to an abundance of birds and wildlife, Haines offers unrivalled opportunities for outdoor recreation.
http://www.hainesalaska.gov/ →

Juneau
Welcome to Juneau. Experience one of the most expansive and beautiful views offered in all Alaska, from the Chilkat Mountains to the north, down the Gastineau Channel to the lands and waterways of the south, west to Douglas Island, and east into Silver Bow Basin where gold was discovered near the head of Gold Creek in 1880.
Ketchikan (Alaska)
Ketchikan's economy is based upon tourism and fishing, and the city is known as the "Salmon Capital of the World." Well designed and offering options depending on the amount of time you have in the place. State parks and fjords will have you entertained in the area, no doubt.
http://www.visit-ketchikan.com/ →

Klawock
Klawock is a major center of Tlingit culture. Each year the local Alaska Native Brotherhood and Sisterhood sponsor the Elizabeth Peratrovich Celebration in February with ceremonies and a potluck. The City also sponsors a week long summer festival "Celebration by the Sea." Klawock is also home to the second oldest hatchery in Alaska.
http://www.cityofklawock.com/ →

Petersburg
A visit to Petersburg provides some insight into the character of a true Alaskan town-isolated, with an obvious spirit of community and self-sufficiency. There is an opportunity for sight seeing via floatplane or helicopter over nearby Le Conte Glacier and for hikes on forest trails. Cruise out to look for whales in the south part of Frederick Sound , which is often a virtual sculpture garden of grounded icebergs.
http://www.ci.petersburg.ak.us/ →

Sitka
The natural splendor of Sitka along with its diverse history and cultural heritage make Sitka a wonderful place to visit and explore. For a list of attractions in the Sitka area, please visit this beautiful website.
Skagway
Welcome to Skagway, Alaska, incorporated on June 28, 1900, as the first first-class city in the Territory of Alaska. During the early 1900s Skagway was known as the "Gateway to the Klondike." Today this is an amazing place with many attractions to offer.
Unalaska Island
Life is good on Unalaska Island. It is the home of a creative, friendly, industrious and positive community, and a Blue Ribbon of Excellence Award school system. No wonder many who first come here to work choose to make Undiscovered-Unforgettable-Unalaska their home.
Wrangell
Discover the grandeur of the Stikine River, the majestic snowcapped mountains bordering British Columbia, the abundant fish and wildlife, calving glaciers, and adventure of a lifetime – it is the Alaska you have always imagined. Welcome to Wrangell!
Yakutat
Yakutat, Alaska is located along the rugged Alaskan Gulf Coast between Sitka and Cordova. Bounded by amazing natural attractions like the Gulf of Alaska on the South, nearly impenetrable mountains to the North, and coastal glaciers to the East and West, Yakutat is about as remote as one can get in Alaska. There are no roads leading into or out of Yakutat. All commerce and access must occur via air or sea.
http://www.ptialaska.net/~gycc/ →
ALASKA IN YOUR POCKET
Publication date: June 2015
Language: Castilian
Price: 9,95 €

BEST GUIDE PDF
Children Alaska
Children Alaska: city also for the kids
Juneau
Alaska's state capital is also one of its most beautiful cities and one of the most visited communities in the state. With so much to see and do, there's certain to be something for you in Juneau.
About Juneau
Downtown Juneau sits snugly between Mount Juneau, Mount Roberts and Gastineau Channel, and is a maze of narrow streets running past a mix of new structures, old storefronts and quaint houses featuring early 19th century architecture left over from the town's early gold mining days. The waterfront bustles with cruise ships, fishing boats and floatplanes zipping in and out. With no road access to Juneau, it is the only state capital in the United States that can only be reached by airplane or boat.
Things to do
Juneau's lively downtown is compact, easy to navigate on foot and always a favorite with visitors. Within easy walking distance of the cruise ship docks are many of Juneau's main attractions, including the state capitol building, Saint Nicholas Russian Orthodox Church, several museums and historic South Franklin Street, where turn-of-the-century buildings today are gift shops, restaurants and pubs. Also nearby is the Juneau Convention & Visitors Bureau with visitor information, displays and walking tour maps of the city.
Just a short drive from downtown, one of the city's most iconic sites sits at the edge of a residential neighborhood: Mendenhall Glacier. The glacier sits within the Tongass National Forest – the largest national forest in the United States – and visitors to the area can watch icebergs calve off its frozen face into Mendenhall Lake, go for a hike or check out the Mendenhall Glacier Visitor Center. Mendenhall Glacier is one of the 38 major glaciers that extend from the 1,500-square-mile Juneau Icefield, and many of them can be seen from the air as part of a flightseeing tour. Most helicopter tours offer glacier landings, glacier treks and glacier dog sled rides.
Whale watching tours are a popular way to see the diverse marine life in the area including Steller sea lions, Dall's porpoise, killer whales and humpback whales, which return to the area each summer to feed on krill and herring. Juneau has about 60 humpbacks that frequent the area and are so commonly viewed that many tour operators offer a guaranteed sighting or your money back.
For many, the best way to experience the area is the most affordable — on foot. Few cities in Alaska or elsewhere offer as many hiking trails as Juneau. Many wind to the face of a glacier or climb above the tree line, where you can overnight in a public-use cabin.
Juneau also offers access to some of the region's top attractions, including Glacier Bay National Park and Preserve, Tracy Arm-Fords Terror Wilderness Area and Admiralty Island National Monument.
Getting here and around
Most summer visitors reach Juneau via cruise ship – indeed, it is one of the most popular ports of call in Alaska. However, Juneau is also served multiple times a day by Alaska Airlines, and can be reached by the state's ferry system, the Alaska Marine Highway.
History
One of the reasons Juneau has so much character is that it's one of Alaska's oldest cities. Established before the big Klondike Gold Rush of 1898, Juneau also has gold in its past. In 1880, a local Tlingit Indian chief led prospectors Joe Juneau and Richard Harris to what later became known as Gold Creek, where the two men discovered nuggets just laying on the ground. Soon after a town site was established, making Juneau the first city founded after the purchase of Alaska by the United States from Russia. The area later became home to what was at the time the largest hard-rock gold mine in the world – the Treadwell Mine. Juneau became Alaska's territorial capital in 1906, and, after statehood in 1959, its state capital.
Safari Endeavour Review

The Safari Endeavour went from nice to luxurious when the capacity was reduced from 102 guests to only 84. The smaller passenger count means her common areas including the lounge, decks and expecially the dining room are now spacious and relaxing. In addition her increased crew is able to offer exceptional service to the smaller complement of travelers. She still offers the size and stability of a ship her size the the added space is what sets her apart. Choose the Safari Endeavour if you are seeking a luxurious small ship with plenty of space and exceptional service and cuisine.
In this detailed review of the Safari Endeavour, find the complete small ship description with deck plans and a photo gallery. After reading through our Safari Endeavour review above and detailed description below, contact our Alaska cruise experts for more information and to compare this ship with other Alaskan small ships and yachts.
The Safari Endeavour, formerly the Spirit of Endeavour, was built in 1983 by Jeff Boat Shipyard. The vessel is registered in the United States and underwent extensive renovation in 2012, which expanded various staterooms and outfitted the ship with two hot tubs and a sauna, exercise equipment, an intimate wine bar, a massage suite (complete with a complimentary massage), an included bar with top shelf spirits, beer and wine, and a full complement of expedition gear.
Common Areas Aboard Safari Endeavour
The Safari Endeavour's three decks provide great viewing opportunities of Alaskan wildlife and glaciers, as well as relaxing public spaces for gathering with new friends. The Dining Room, Wine Bar and Library each project an atmosphere of casual elegance. On the Main Deck, the salon and bow-viewing area provide more places to gather and take it all in. The Upper Deck features two hot tubs, lockers and a sauna. The Bridge Deck is home to the Sun Lounge, bar, bridge and exercise equipment.
Meals Aboard the Safari Endeavour
Meals are a highly anticipated part of each Safari Endeavour cruise. Exquisite cuisine is innovative and fresh with seafood and produce purchased locally whenever possible. All meals are served in the elegant dining room, and the complimentary bar offers premium spirits, fine wines and microbrews.
Activities Aboard Safari Endeavour
Active adventure cruises aboard the Safari Endeavour allow freedom to engage in many activities. Kayaks and stand-up paddleboards are available for excursions. A full-beam swim step makes launching a kayak and boarding skiffs easy. Skiff rides explore shoreline, wildlife and landscapes up close. Expert naturalists and guides lead excursions on land and sea. An enhanced program of educational presentations are held in the salon. Yoga classes are available on board, and adventure gear is available for use, including hiking poles and yoga mats. Hydrophones for listening, and an underwater camera for viewing, allow guests to connect live with the underwater environment from the comfort of the ship. Enjoy a complimentary massage to unwind after a day of exploration. An all-American crew of 34 ensures attentive service with a guest-crew ratio of 2.5 to 1.
Cabins Aboard Safari Endeavour
The yacht-style ship carries up to 84 guests with a mix of twin (some convertible) and king-size beds. Five stateroom categories include 2 Master, 21 Commander, 12 Captain, 3 Admiral and 4 Commodore Suites. Commodore Suites feature Tempur-Pedic® memory-foam mattresses. Singles, doubles or triples can be accommodated aboard. The suites merge two former staterooms and have step-out balconies. All staterooms have one or two outside view windows (no portholes), en-suite showers, some Jacuzzi tubs, heated tile bathroom floors, flat screen TVs with DVD players and iPod docking stations.
Commodore Suite
205-208. Sitting area; king or twin beds; Tempur-pedic memory foam mattresses; refrigerator; view windows; French doors and step-out balcony; private bath with Jacuzzi tub and shower.
Admiral
201-202, 309. King or twin beds; refrigerator; desk and chair; view window; private bath with shower.
Captain
105-112, 203-204, 209-210. King or twin beds; desk and chair; view window; private bath with shower.
Commander
303-308, 311-322. Fixed twin beds; desk and chair; view windows; private bath with shower.
Master
103-104; 212; 301-302. Fixed twin beds; desk and chair; view window or porthole; private bath with shower.
Single
Designated single cabins may be available at this special rate. Other staterooms may be booked as a single for a single supplement.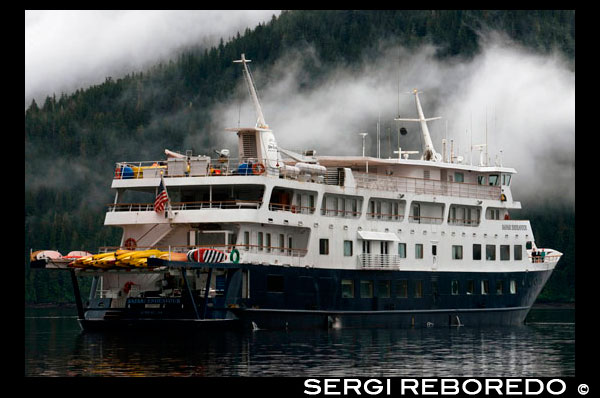 36 Hours in Juneau, Alaska
RESIDENTS of Juneau brag that their town is the most beautiful capital city in America, and they have a strong argument. Juneau is inside the Tongass National Forest, part of the world's largest temperate rain forest. Old-growth groves and glaciers lie within the municipal limits, snow-capped mountains loom overhead, and whales and other marine wildlife are a short boat ride away. But despite Juneau's overall utilitarian vibe, there's more to the town's appeal than natural beauty. Gold Rush-era buildings, art galleries, quality regional theater and fresh seafood make for pleasant companions to Juneau's stunning surroundings.
Friday
3 p.m.
1) BACK TO THE ICE AGE
Nature beckons. But some preparations are required. On your way into town, stop at Western Auto-Marine (5165 Glacier Highway; 907-780-4909; www.westernautojuneau.com) for a pair of brown rubber, calf-high Xtra Tuf Boots, a must-have item in any Alaskan's wardrobe (depending on whether you spring for the reinforced toes, they typically sell for $80 or $90). A good place to start your trek is the entrance to the Switzer Creek and Richard Marriott Trails (midway on Sunset Street). On the hillside, even ranks of evergreens give way to a hodge-podge of trees of different species, sizes and shapes. This change marks the boundary between second-growth timber on land logged decades ago, and an old-growth forest, untouched since the end of the last ice age. Hike up the trail — it's not too strenuous — and discover for yourself why environmentalists are so keen to save these ancient woods, namely an amazingly rich variety of plant and animal life. There are hemlock and spruce, whose uneven canopy blocks winter snow, leaving plants like five-leaved bramble to feed deer and other animals through the winter. (Keep to the wooden planks at the base of the trail, and be glad you have your boots. The bog, or muskeg, is plenty wet.)
6:30 p.m.
2) FISH DON'T GET FRESHER
Locals say Juneau is not much of a restaurant town because so many people dine on fish they catch themselves. But when Juneau's citizens want fish prepared for them, they head to the Hangar on the Wharf Pub & Grill (2 Marine Way; 907-586-5018; www.hangaronthewharf.com). The building's exterior of plain blue clapboard isn't designed to impress, but the restaurant's harborside location offers dazzling views of the Gastineau Channel and the mountains of Douglas Island west of Downtown. There's halibut on the menu, of course, and salmon (guaranteed wild-caught) and king crab. Seafood entrees range from $19 to $33. Enjoy your fish with a crisp, New Zealand sauvignon blanc or a bottle from the extensive craft beer list.
8 p.m.
3) INDOOR DRAMA
After celebrating its 30th anniversary this spring, the Perseverance Theatre, a nonprofit repertory company across the Gastineau Channel on Douglas Island (914 Third Street, Douglas; 907-364-2421; www.perseverancetheatre.org), will begin its 2009-2010 season in September. Offerings will include a mix of the classic (Thornton Wilder's "Skin of Our Teeth") and contemporary (Sarah Ruhl's revisionist take on "Eurydice") and prices are low.
Saturday
9 a.m.
4) SEEING SEA LIFE
What better way to start your Saturday than with some close-up views of Juneau's original residents. A number of companies offer whale-watching trips from Auke Bay, a short car (or bus) ride north of Downtown. Find one offering a trip up the Lynn Canal to Berners Bay and you are sure to see Steller sea lions basking on a rocky haul-out, harbor seals bobbing in the water and harrier hawks, geese and ducks. Also watch for eagles nesting along the shores. Most companies guarantee you will see whales; chances of spotting humpbacks are best in late spring when the herring-like fish called eulakon ("hooligan" in a local Native language) are running. A good place to book your tour is Allen Marine Tours (907-789-0081; www.allenmarinetours.com); there is a range of options.
Noon
5) UP NORTH, DOWN SOUTH
Back in town, enjoy a taste of old Juneau at the Triangle Club (251 Front Street; 907-586-3140; www.triangleclubbar.com). Order a hot dog and some Alaskan Amber — one of the local beers brewed and bottled right in town. If the Triangle looks a bit louche for your tastes, try El Sombrero around the corner (157 South Franklin Street; 907-586-6770), a Juneau institution. The modest place has been dishing out generous helpings of Mexican standards since the oil boom began in the 1970s. Entrees are generally $8 to $12 .
1:30 p.m.
6) HISTORICAL PERSPECTIVES
For some history on one of our most unusual states, try the Alaska State Museum (395 Whittier Street; 907-465-2901; www.museums.state.ak.us), which houses a collection covering the Athabascans, Aleuts and other Alaska Natives, the state's history as a Russian colony and the gold rush that helped create Juneau. The museum's store and its auxiliary retail outlet at 124 Seward Street stock a variety of Native crafts including baskets, prints and dolls. Keep walking farther from the port and you'll come upon what is probably Juneau's least-known gem: the lichen-covered tombstones in Evergreen Cemetery (601 Seater Street; 907-364-2828). Joseph Juneau and Richard Harris, the prospectors who founded the city, are buried there; the cemetery was also the site of the funeral pyre of Chief Cowee, the Auk who led them to Juneau's gold.
Juneau
A rich history, dramatic scenery, and endless activities make Juneau, Alaska one of America's most exciting state capitals. Originally a Tlingit settlement on the banks of the Gastineau Channel, today Juneau is the seat of Alaska's state government and a thriving tourist destination for adventure seekers from across the globe.

Mountains rise dramatically behind downtown Juneau to a height of 3,800 feet. In the summertime, waterfalls cascading off those mountains ring the city. A large aerial tram can whisk you from sea level to the top of Mount Roberts in minutes. From there, the breathtaking scenery of Juneau and Douglas Island is laid out before you.

Juneau also boasts the world-famous Mendenhall Glacier just 15 minutes from downtown. Originating in the vast Juneau icefield, the Mendenhall has for millenia carved its way through rock cutting a path to the sea. At the base of the glacier is a US Forest Service interpretive center which explains the geology behind this majestic slow-moving river of ice. The best way to see the Mendenhall Glacier and the Juneau icefield is by airplane. Alaska Seaplanes offers glacier tours by air starting at an affordable 30 minute flight. We can customize a glacier flightseeing tour to fit any timeline or budget. Our most sought-after flightseeing tour out of Juneau is out to the inimitable Glacier Bay, a UNESCO World Heritage site. This two hour floatplane tour brings you overtop glaciers, hidden bays full of whales and sea otters, and remote beaches where black and brown bears roam for clams and salmon.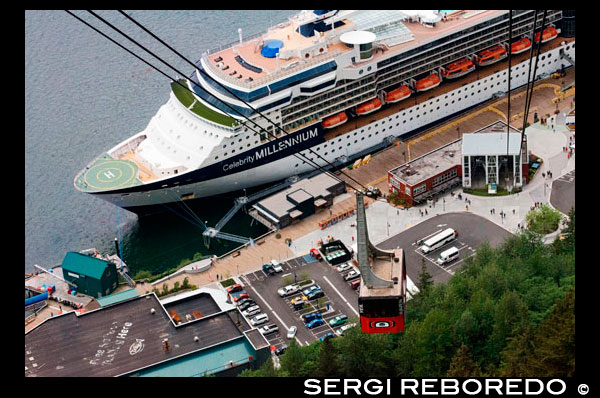 Explore the 10 reasons why you should cruise Alaska
Alaska is one of the top cruise destinations and one of the most fascinating. A big reason for the region's popularity has to do with the appeal of the unspoiled scenery, but there is more to the 49th state than first meets the eye.
Now is the time to book cruises for the May to September season, while there are still early-bird fares and a good choice of cabins. Here's why you should put a summertime cruise to Alaska on your calendar.
It's Alaska. You will be cruising in a "bucket list" destination, a place where scenic wonders, such as massive glaciers roaring into the sea in the Inside Passage, are best viewed from the water — including from the deck of your cruise ship. The rustic, uncrowded charm of the places you'll visit is also captivating (though you will share the major ports with many fellow cruisers).
The wilderness. Much of the state's coastline is wilderness, and whether you're shipboard in places such as Glacier Bay National Park & Preserve or out exploring on shore excursions, you'll experience the sheer vastness as you view protected emerald forests, snow-capped mountains, waterfalls, glaciers and fjords. To give you some concept of it, consider that Misty Fjords National Monument alone is the size of Connecticut.
TIPS AND TRICKS: Packing for Alaska
The wildlife. Around the time you spot your third bald-headed eagle you'll realize there are a lot of the birds in Alaska, including in Juneau and other developed areas. You'll likely see more than one whale, and even more than one whale type — there are 16 whale species that spend time in Alaskan waters, including humpbacks and orcas. Spotting a grizzly bear is trickier, but keep your binoculars at the ready.
Frontier spirit. One of the best things about traveling in Alaska is encounters with Alaskans. Maybe it's the rugged climate and remoteness of the place, but ask a few questions, such as "Have you seen a bear recently?" or "How are the salmon running this year?" and you'll likely hear stories — including the requisite frontier tall tales.
Convinced? Then book a cruise now with our help.
Rich Native culture. A memorable part of your Southeast Alaska cruise will be experiencing Alaska Native culture in small villages such as Hoonah (home to Icy Strait Point) and larger ports such as Juneau, Ketchikan and Sitka. Visit museums and cultural centers and take time to view the towering totem poles that showcase the artistry of the Tlingit, Haida and Tsimshian peoples.
Gold Rush history. Back in 1898, prospectors flocked to the Klondike, hoping to become instant millionaires in one of the biggest gold rushes in history. Most did not succeed (and instead faced numerous hardships). Remnants from the Klondike Gold Rush remain and make for a fascinating history lesson as you explore places including historic Skagway.
Easy access inland. "Cruisetours" — land options that can be combined with your cruise — get you to Anchorage, the Kenai Peninsula, Denali National Park and Fairbanks, as well as into the Yukon Territory and the Canadian Rockies. Princess and Holland America have well-established land operations including hotels. Royal Caribbean/Celebrity also operates its own land packages.
Choice of ships. Cruising in Alaska can mean anything from seeing the top sights on a large ship (with the option of shore excursions to more remote places), to spending most of your time in the wilderness with such small ship companies as Un-Cruise Adventures, Lindblad Expeditions and Alaskan Dream Cruises. There is even such a thing as luxury Alaska cruising, provided by lines including Silversea and Regent Seven Seas.
Good eats. You might not think of Alaska as a culinary destination, but one bite of the local catch from a place such as Tracy's King Crab Shack in Juneau and you'll be hooked. There's a reason Juneau was featured last year on Bravo TV's "Top Chef."
Amazing shore excursions. Whether trying to catch "the big one" while salmon fishing, taking a helicopter to hike the top of a glacier, flightseeing over ice fields, kayaking past frolicking seals, trekking to see bears, gold-panning or riding a dogsled, Alaska shore excursions bring bragging rights. Cold-water snorkeling, anyone?
A Five-Day Jaunt in Juneau
WHEN I think of the wild, I think of Alaska -- of peaks like ice cubes, of thick trackless forests, and especially of bears. The last time I went to the Alaskan interior, I took a pair of bells to let them know I was there. Shortly after my return, I read in the news that two veteran hikers from Anchorage had been mauled to death by a bear in a state park near Prince William Sound where I had sauntered, jingling.
This time I didn't bother with bells, and went not to the interior but to the southeast, stretching 540 miles from Icy Bay to the Portland Canal, just north of British Columbia. There, the cordillera that runs intermittently all along the west coast of the Americas reaches its northern climax, with summits like 18,008-foot Mount St. Elias and foothills turned into the myriad islands of the Alexander Archipelago by the encroaching sea. John Muir fell in love with the region when he first saw it in 1879, and might have stayed if his fiancee and Yosemite hadn't wooed him back to California.
The climate here is mild for Alaska, with summer temperatures occasionally topping 80 degrees and 60 to 200 inches of rain a year, keeping the landscape lushly green. Towns like Juneau, the state capital, and Sitka, where Aleksandr Baranov built a Russian fort in 1799, dot the deeply indented coast, providing the southeast with cappuccino, bookstores and other trappings of civilization.
I originally planned to catch an Alaska State Ferry in Juneau and see it all from the safety of the deck. But even I hear the call of the wild occasionally. So I started hunting through guidebooks, on the Internet and in a marvelous booklet called The Alaska Catalogue published by Alaska Rainforest Tours for a little adventure out of Juneau, before my ferry trip.
The options were numerous and attractive: a stay at Lisianski Lodge, near the village of Pelican on West Chichagof Island, accessible by ferry, charter boat and float plane, for four days, three nights for $390, including meals; a three-day Mothership Trip, providing transportation by boat to camping sites on the mainland and islands near Juneau, with gear provided (but not food) for $395 to $480; or a two-night cruise through Glacier Bay National Park, 60 miles northwest of Juneau, for $549 to $809 (double occupancy), including accommodations, meals and kayaking.
Most compelling of all was a stay at a remote cabin in the Tongass National Forest, which occupies 17 million acres of ice fields, rain forests and rocky littoral in southeast Alaska. The United States Forest Service maintains 150 cabins (with stoves and basic furnishings) in the region, at $25 a night. Seven of these are relatively near Juneau, accessible by foot, charter boat or float plane. But, along with bedding and cooking gear, the Forest Service suggests in their printed information that visitors pack a gun (30.06 caliber or larger), presumably in case of bears, and I don't have one.
In the end, I played it very safe and booked a three-day Alaska Islander sea kayaking trip for $495 with Alaska Discovery Wilderness Adventures, which has headquarters in Juneau and has been in business for 25 years. It also offers longer, more expensive trips, like a 10-day rafting and hiking expedition on the Kongakut River in the Arctic National Wildlife Refuge for $2,900 (including bush-plane charters). But three days of kayaking around Douglas Island, across Gastineau Channel from Juneau, sounded just right to me. The price includes meals, gear and the service of two naturalist guides; solo travelers who also happen to be novice paddlers are welcome; and kayaking is an indisputably great way to see the scenery and wildlife of the southeast, where there are very few roads. Juneau has just 54 miles of highway. The only way to get there is by plane or boat, though the state is considering construction of a road linking Juneau to Skagway, where there's a spur that ultimately intersects the Alaska Highway.
Admittedly, the cheapest, most romantic way to tour by kayak is to paddle off on your own, with your camping gear and food stowed inside the boat. In Juneau, I met hardy souls preparing for independent trips, and envied them -- though not the trouble they'd taken to transport their boats and assemble provisions.
On the other hand, I encountered a few hassles myself. To reach Juneau in late July, I booked a one-way flight on Alaska Airlines from Seattle for $174, and reserved a round-trip ticket for $350 on American Airlines to Seattle from New York. But the next day, when I called American to purchase the ticket, the fare had risen by about $200. Ultimately, I found flights on America West to and from Seattle (with no hot meals and stops in Las Vegas and Phoenix) for $438 round trip. Since I'd already booked ferry passage from Juneau to Prince Rupert (where I planned to catch a B.C. Ferry south to Vancouver Island), I was all set.
But on July 19, a week before I left, a flotilla of Canadian fishing boats blockaded an Alaskan ferry in Prince Rupert, B.C., to protest the alleged overfishing of Canadian salmon by American fishermen. In reprisal, the Alaska Marine Highway System suspended all service to Prince Rupert -- meaning I had to spend a good deal of time in Juneau revising my itinerary. And I dropped and broke my camera in the Juneau airport, forcing me to buy a new one for a price I can't bear to reveal.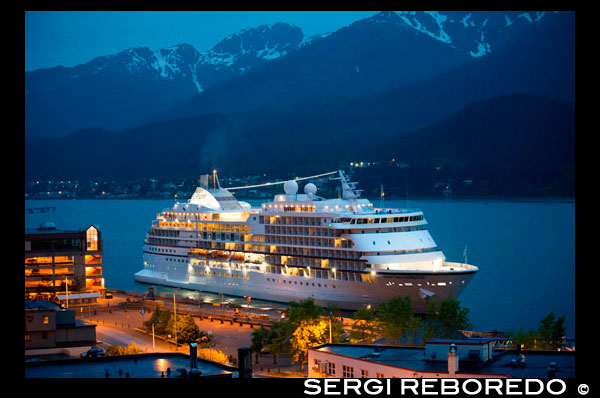 Traveling to Juneau, Alaska, With Kids
Beautiful little Juneau, Alaska, is a pirate's treasure chest of exotic wonders to enchant and stimulate your children. This cosmopolitan burg is the only state capital that cannot be reached by road or rail; everyone and everything comes to Juneau by boat or plane. Its geographical position, wedged between soaring mountains and the Gastineau Channel, creates enough opportunity for hiking, boating, biking, skiing and fishing to occupy kids for an entire summer.
Getting to Juneau
You can fly into Juneau, and kids will press noses to the plane windows for early views of the spectacular Alaskan scenery, but nothing beats the tranquil comfort of the Alaska state ferries (dot.state.ak.us/amhs). You can travel Alaska's Inside Passage from Prince Rupert, in Canada's British Columbia, or Bellingham, Washington, with or without your vehicle. Choose from among the many trip options; all treat the entire family to the beautiful vistas of Southeast, including sightings of wildlife. Day visits to coastal towns break up the trip for youngsters.
Mendenhall Glacier
Kids love glaciers, and, in Juneau, they can get up close and personal. A short drive from downtown Juneau, the Mendenhall Glacier offers an incredible opportunity to explore. Even from the parking lot, you get terrific views of the glacier curling up the valley like a glowing, blue-white monster from another age. Choose between two great trails, depending on the age of your children: the East Glacier Loop Trail, an easy 3.5-mile loop to a view of a waterfall above the glacier; or the West Glacier Trail, twice as long and far more challenging. It traces the glacier edge and allows access to the ice itself.
Mount Roberts Tramway
Two peaks tower over downtown Juneau, Mount Juneau and Mount Roberts. Both are accessible to determined and experienced hikers and supply enough expansive views of the Gastineau Channel and its magnificent islands to last a long time. But visitors with children often prefer to take the Goldbelt Mount Roberts Tramway (mountrobertstramway.com) to the tree line. The six-minute ride whisks you from sea level to a platform 1,760 feet up the face of the mountain, where your kids can choose among easy trails. Adults and older children might opt to make the six-mile round trip to the 3,819-foot summit; reserve an entire afternoon and count on strenuous hiking. The somewhat pricey tram ride should be saved for a clear day.
Last Chance Mining Museum
Kids and museums don't always mix, but Juneau's Last Chance Mining Museum is not likely to raise any objections from the younger set. The turn-of-the-century Juneau gold rush makes a fascinating story, and the mining museum, right on Gold Creek when the first nuggets washed up, allows close inspection of old mining buildings and equipment. Guides from the Gastineau Channel Historical Society tell captivating tales of fortunes lost and won. Enter the several-acre museum site from a bridge across Gold Creek. The museum is only open in summer months and charges a small entrance fee.
Eaglecrest Ski Area
The city of Juneau owns Eaglecrest Ski Area (skijuneau.com), the second-largest ski resort in the state. Only a short drive from downtown along the North Douglas Highway, Eaglecrest offers three lifts feeding into 31 runs. Since 20 percent of the runs are rated novice, you should find something appropriate for the kids; younger children might prefer the inner tubing hill. The resort also offers cross-country-skiing trails.
Bird-Watching
Rare is the child who won't thrill to see a bald eagles, and these magnificent birds are a common sight along the Juneau shoreline. If your brood doesn't spot any right away, look near the fish hatchery, or visit the Mendenhall Wetlands State Game Refuge near the airport. This 3,800-acre refuge of tidal estuaries is home away from home to myriad species of birds during spring migration. Start your trip at the viewing platform at mile 6 of Egan Drive.